Benedictine Military School
Benedictine Military School Uses Simple Math to Choose a Cree® LED Lighting Upgrade for Their Classrooms of the Future.
Savannah, GA
Indoor Lighting
Download Case Study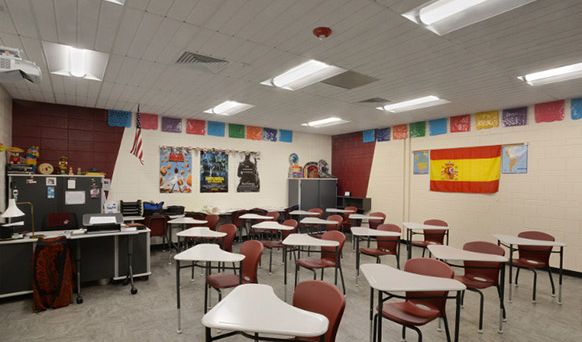 Opportunity
Solution
Benefit
Benedictine Military School (BC), a Catholic college preparatory school for young men in Savannah, Georgia, opened its doors in 1902. The current campus opened in 1963 and recently celebrated its 50th anniversary. Although the school has withstood well the daily grind of 400 boys, the school began to look at modernizing their classrooms with the goal of creating classrooms of the future. High on the list was an upgrade to LED lighting.
In preparation for the 50th anniversary celebration, archival photos revealed the original lighting fixtures still hanging in classrooms today! The 25 classrooms had fluorescent fixtures with about 30 bulbs in each room.  A simple math exercise revealed that with a very small facility management staff, keeping the 750 bulbs lit was a constant and costly battle.
Looking for something else?