H-E-B at Mueller
With the help of 90 percent Cree® LED lighting in their new H-E-B at Mueller store, H-E-B can boast the most environmentally innovative grocery store in Austin with registration for both LEED certification and Austin Energy Green Building certification.
Austin, TX
Indoor Lighting
Download Case Study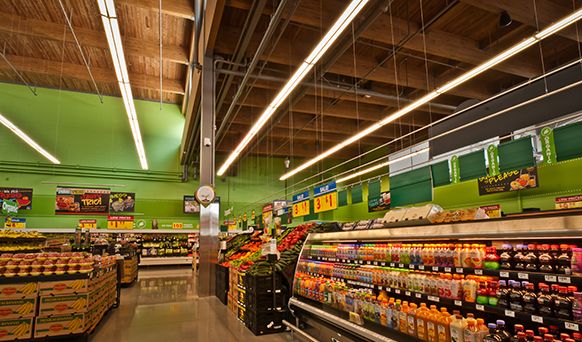 Opportunity
Solution
Benefit
Over 100 years ago, in 1901, an enterprising woman named Florence Butt invested $60 and opened a small, family-owned store in a little town in Texas Hill Country. Today, that $60 has grown into H-E-B Grocery Stores — one of the largest privately-owned food retailers in the country with more than 340 stores in 150 communities, employing 76,000 employees. As the company's overview states: "We've always dreamed big."
In 2010, Progressive Grocer Magazine named H-E-B Retailer of the Year, based on, among other things, industry contribution, industry and community leadership, social responsibility and sustainability. This award recognizes H-E-B's emphasis, since the 1930s, on commitment to the local communities surrounding their stores, with the company contributing five percent of pre-tax earnings to community and charitable programs. That community commitment also extends to environmental stewardship.
As part of their construction plans, H-E-B stores are now designed to save on energy consumption and reuse materials wherever possible, saving thousands of dollars each year in energy costs — savings that are in turn passed along to customers. In planning for their newest, most environmentally-innovative store — H-E-B at Mueller in Austin, Texas — Charles Wernette, Director of Engineering at H-E-B, states: "We decided to make this store at Mueller our most energy-efficient store to date. One of the energy-saving initiatives we undertook was to make every light in the store LED." To make that goal a reality, H-E-B turned to the industry leader in the LED lighting: Cree.
Looking for something else?