Hart Building Senate Office
Installation of Cree CR22™ LED Troffers Yields Energy Savings of 33 Percent
Washington, D.C.
Indoor Lighting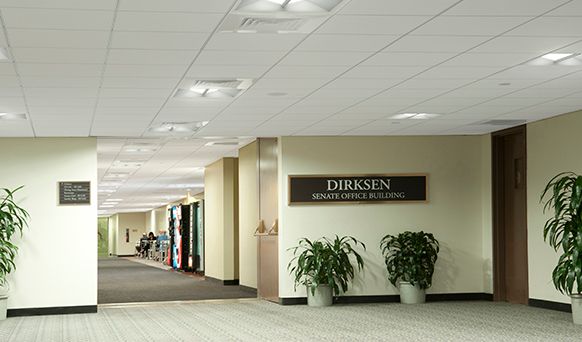 Cree® CR22 linear luminaires replaced 130 CFL downlights and linear fluorescents throughout the Hart Building, updating the building's outdated ceiling grid. Designed to last 50,000 hours or more, Cree CR22 linear luminaires not only reduce energy consumption and lower utility expenses, but the new fixtures also minimize maintenance and operational costs for the Senate building.
"The CR series is truly a no-compromise alternative when upgrading fluorescent lighting," said Christopher Ruud, vice president global sales, lighting, Cree. "Delivering higher-quality light, longer life and greater energy savings than comparable fluorescent options, CR troffers are a natural fit for office settings like the Hart Senate Office Building."
A nine-story structure, the Hart Building has a distinctly contemporary appearance. When its construction was authorized by Congress, the architects sought to design a flexible, energy-efficient building that would accommodate Congressional business and the new technology of the modern Senate.
Ruud continued, "Thoroughly modern when it was built, the LED lighting upgrade will allow the Hart Building's facility managers to realize sizeable economic benefits, while continuing the mission set forth by the building's original designers."
Looking for something else?