Kaiser Permanente Medical Center
Kaiser Permanente Medical Center in Fresno, California, achieves its sustainability commitment using Cree® LED luminaires, with annual energy savings of approximately 57 percent, drastically reduced maintenance costs and payback within five years.
Fresno, CA
Outdoor Lighting
Download Case Study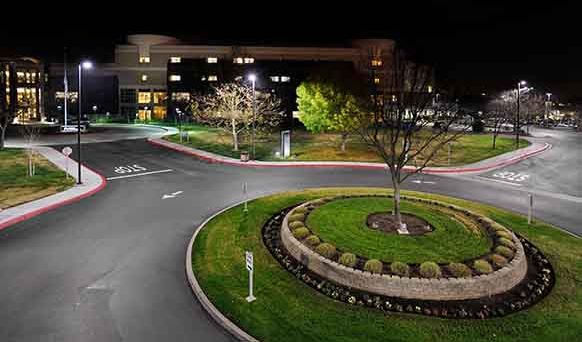 Opportunity
Solution
Benefit
Kaiser Permanente (KP) is a leader in the healthcare industry, including conserving energy. For over 20 years the company has worked to reduce energy use and costs — from energy-efficient lighting upgrades, to harnessing renewable and sustainable energy to help power its hospitals, medical offices and other buildings.
Due to their green building efforts, Kaiser Permanente saves more than $10 million annually through energy conservation strategies. A leader in environmentally sustainable healthcare construction, KP has committed to significantly reducing use of fossil fuels and slowing energy growth over the next 10 years. The company will use sustainable design and construction practices to complete roughly 6.7 million square feet of new construction in the next seven years. Additionally, KP has eliminated the purchase and disposal of 40 tons of harmful chemicals.
In May 2010, KP joined five leading healthcare systems in forming the Healthier Hospitals Initiative to help speed the healthcare sector toward environmental sustainability. The overall goal of this national initiative is to use a coordinated approach to achieve sustainability throughout the healthcare sector, which will prevent environmental-related illness, create environmental benefits and save billions of dollars in healthcare expenses. In 2010, the KP Fresno Medical Center was the recipient of the Partner for Change, with Distinction Award, which recognizes healthcare facilities that are "further along in their path to sustainability."
Looking for something else?