Monroe Elementary School
Monroe Elementary School is the first predominantly LED-lit school in the Everett Public School district. Cree® LR24™ LED troffers now illuminate the new two-story, 68,000-square-foot school.
Everett, WA
Indoor Lighting
Download Case Study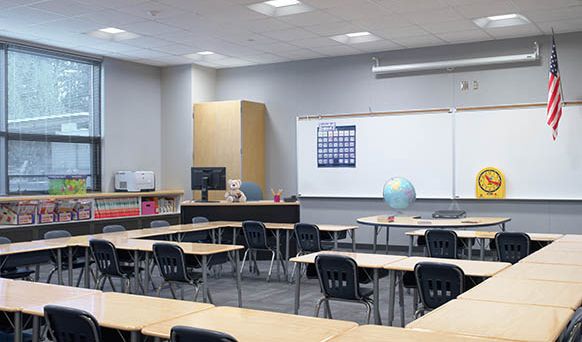 Opportunity
Solution
Benefit
When the officials with the Everett Public School district prepared to construct a new two-story, 68,000-square-foot-building, the focus was on providing students and teachers with flexible space and first-rate classroom technology. A solid and efficient infrastructure was also a priority. 
Cree® LED technology has helped provide just that.
Several years ago, while converting basement shop areas into classrooms at its Heatherwood Middle School, the district ran a trial of LED lighting. After receiving positive feedback from Heatherwood students, faculty and staff over the course of a school year, district administrators became convinced LED was the way to go for future lighting solutions. 
School officials liked that the LED lighting delivered a higher quality of light than the lights they were previously using and consumed less energy. And since Cree LED lighting is fully dimmable, teachers could have control over their classroom environments.
So when the school board began planning the construction of Monroe Elementary, board members approved the installation of LED lighting in the classrooms, library, offices and auditorium. The objective was to improve the lighting energy load while providing better quality lighting and more flexibility.
Looking for something else?