NASA
Piedmont Office Realty Trust has undertaken a renovation of the National Aeronautics and Space Administration's (NASA's) 600,000-square-foot headquarters building, including the installation of energy-efficient Cree® CR22™ LED troffers with embedded Lutron® dimming technology and a Lutron Quantum® lighting control system. This new system is not only bringing significant cost savings but is helping NASA meet its "green plan" objectives.
Washington, D.C.
Indoor Lighting
Download Case Study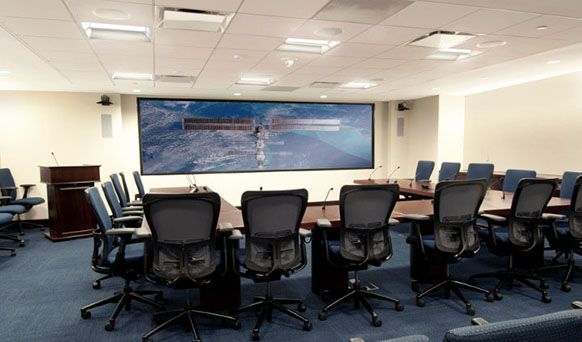 Opportunity
Solution
Benefit
When NASA began renovations for its 600,000-square-foot, 10-story headquarters building in southwest Washington, D.C., it had a plan in place — known as the "green plan" — which stipulated strategies to maximize the potential for energy savings, water efficiency, CO2 emissions reduction, improved indoor environmental quality and resource stewardship.
A primary objective was to achieve LEED Silver certification, and doing so required securing energy efficiencies wherever possible. The new lighting system would be critical to this initiative.
Fluorescent T8 fixtures had previously been used in the headquarters building, and the property owner and manager, Piedmont Office Realty Trust, was considering replacing them with more efficient T5 2×2 fixtures.
In a parallel effort, Able Engineering's Senior Chief Engineer supporting NASA, Tony Roberts, had investigated what Cree could bring to the table. He had placed a sample Cree fixture in another NASA facility, and NASA was impressed with the results.
"We originally considered replacing the existing T8 fluorescent tubes with T5 fluorescents, but after testing Cree's CR22™ LED troffer, we knew it was the best solution for this installation," said Roberts. "No other manufacturer offered the combination of performance, pricing and efficacy we desired. We continue to be impressed by the improved lighting quality and significant savings the CR22 troffers provide."
Looking for something else?