New Leaf Market
A commitment to sustainability in both its business and building practices led New Leaf Market to a Cree® LED lighting solution. The Cree system not only dramatically improves the quality and reach of the market's lighting, it further advances a green initiative while adding some green to the bottom line.
Tallahassee, FL
Indoor Lighting
Download Case Study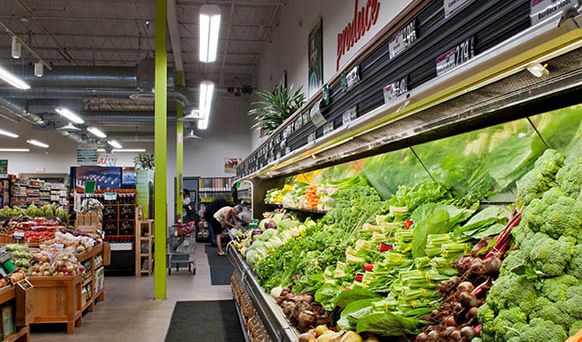 Opportunity
Solution
Benefit
New Leaf Market, a cooperatively owned grocery, was launched in 1974 in Tallahassee, Florida, for the purpose of providing its customer-owners — mostly college students and young families — the opportunity to buy healthy foods at an affordable price. 
The subsequent years brought steady growth, and in 2008 New Leaf Market added 4,435 square feet, with wider aisles and expanded retail space offering a vast inventory of organic and local produce, natural groceries, organic wines, microbrews, supplements, natural vitamins and body-care products. The expanded New Leaf Market deli now offers breakfast, lunch and dinner selections, and a wide variety of beverages.
Since its inception, the market has emphasized socially and environmentally responsible practices and provided education and information about its products and the cooperative principles upon which it's based. To build on its mission, New Leaf Market wanted to take its commitment to sustainability beyond the food stocked on its shelves and find ways to reduce its energy consumption.
When the time came to upgrade New Leaf's lighting system, market management sought a solution that would be in keeping with its commitment to advancing green initiatives at every opportunity.
Looking for something else?