North Carolina State University
In their quest to be a leader in sustainable practices, North Carolina State University is using Cree® LED lighting as the primary lighting source for Wolf Ridge at Centennial – its first residence hall planned for LEED certification.
Raleigh, NC
Indoor Lighting
Download Case Study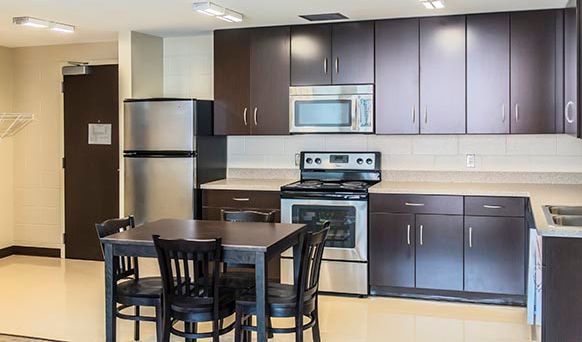 Opportunity
Solution
Benefit
North Carolina State University's Campus Life department is in the housing business. The university considers on-campus living an investment in a student's success and strives to offer lodging options that are convenient, secure and hassle-free. In 2013, NCSU ushered in a new era of student housing with the opening of Wolf Ridge at Centennial − the university's first planned LEED-certified residence hall. Environmental stewardship is important to NCSU, so it was essential to integrate sustainability features into the new Wolf Ridge complex. And for lighting, sustainability means an LED solution. NCSU only had to look to its own backyard for the technology and industry leader in LED lighting – Cree. With Cree, NCSU has implemented a highly-efficient LED lighting solution that will yield a significant reduction in energy consumption and operating and maintenance costs. According to Dr. Barry Olson, Director of Business Administration for Campus Life, "Our students are pretty green. They're big into energy issues and they're pretty happy that we're doing everything we can to save energy. They are expecting us to do whatever the latest thing is, to be energy-efficient. So a product like this makes them happy." Designed for extended life, Cree® LED luminaires last much longer than conventional lighting, which equates to fewer replacements over time and less money spent on maintenance. 
Looking for something else?