Reliable Buick® GMC® Cadillac®
An upgrade to Cree® LED lighting allows beautiful new vehicles to take center stage. Owners enjoy an encore of reduced energy use and maintenance but interested customers deliver the standing ovation.
Roseville, CA
Outdoor Lighting
Download Case Study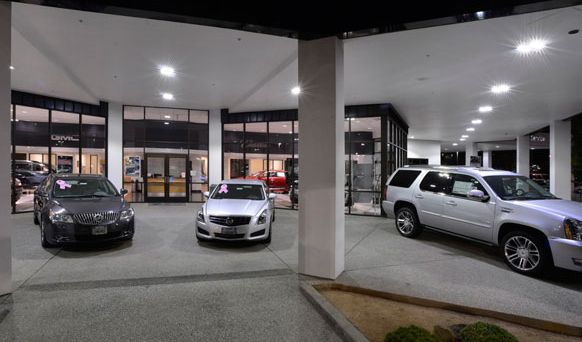 Opportunity
Solution
Benefit
For Bruce Westrup, owner of Reliable Buick® GMC® Cadillac®, installing new LED lighting was about far more than saving energy and virtually eliminating maintenance. According to Westrup, outdated halogen and metal halide fixtures needed to be replaced because it made economic sense and it made marketing sense to make his dealership look dramatically better for not that much more money.
Westrup's main goal in seeking to install LED lighting was to draw attention to the products he sells – beautiful new Buick®, GMC® and Cadillac® vehicles. Poor light quality from old technology fixtures prevented the exterior and interior showrooms from looking their best but worst of all, according to Westrup, the true colors and finishes of the new automobiles were compromised.
The owner also felt that he had experienced the financial effects of halogen and metal halide lighting long enough to know that he didn't want the heat the fixtures produced or the frequent and costly maintenance to replace dimming and burned out bulbs.
Looking for something else?