South Winn Insurance Services
As Mary McEnaney prepared to move her insurance business to much larger offices, her objectives for her new lighting system were to have a more energy-efficient, higher quality (and quieter) source of light than in her previous location. Cree helped make it so.
Calmar, IA
Indoor Lighting
Download Case Study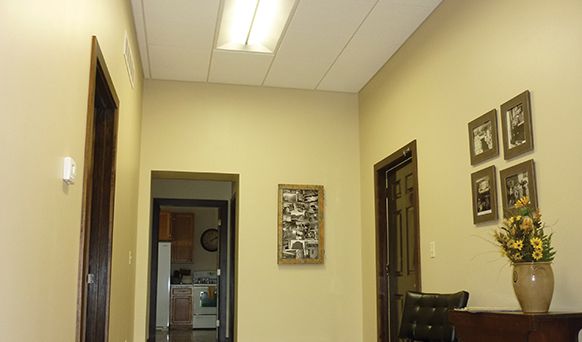 Opportunity
Solution
Benefit
Mary McEnaney had several objectives in mind regarding the lighting system that would be installed in her new location. Most immediately, McEnaney, owner of South Winn Insurance Services in Calmar, IA, wanted to lose that hum — that sound emitting from the ballast of her fluorescent lighting that her clients had sometimes commented on.
That hum needed to go — that and the flicker, both of which, says Angie Einck, a South Winn employee and Mary McEnaney's oldest daughter, had started to seem almost normal — but not in a good way.
Certainly, the hum and the flicker were on the way out. Mary McEnaney wanted a higher-quality lighting system in her new offices — one that would offer more natural and consistent light than the system at the old location. It also had to be an energy-efficient solution. 
In sum, McEnaney wanted to transition from fluorescents to a brighter, "greener" future — which, of course, meant an LED lighting solution. 
Looking for something else?