Szott Ford
A pioneer of the Ford® Go Green dealer sustainability initiative, Szott Ford is illuminating its lot with Cree® LED lighting. The difference is "stunning."
Holly, MI
Outdoor Lighting
Download Case Study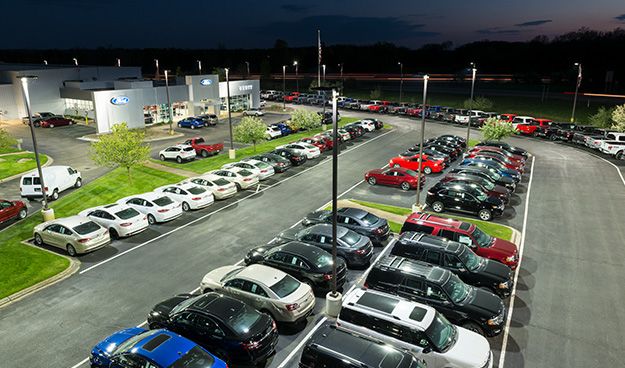 Opportunity
Solution
Benefit
The exterior lighting of his Ford® dealership in Holly, Michigan had been an issue for Todd Szott for more than a decade. Maintenance of the metal halide fixtures was "a constant battle." Bulbs would dim very quickly, and his sales staff had to carryflashlights in order to read information on a window sticker.
So when it came time for a general remodel last year, Szott recognized that the time was right to remedy that predicament. In fact, the timing was perfect, given that Ford was looking for dealers ready to take the lead in its Go Green initiative, a program designed to help them reduce their carbon footprints and improve the energy efficiency of their operations.
The Go Green program is administered in cooperation with Gexpro, a national full-line electrical distributor and Cree, a strategic partner focused on new products, energy strategies and lighting technologies that make it possible to save electricity while improving facility aesthetics.
In collaboration, Gexpro and Cree offer customized interior and exterior lighting solutions designed to save money and be more energy-efficient. They had a solution that precisely met Szott Ford's needs.
Looking for something else?