University of Washington's Dempsey Indoor Center
At a university where brain power rules, installing Cree Lighting's HXB Series high-bay luminaire in
the new Dempsey Indoor Center was a "no brainer."
Seattle, WA
Indoor Lighting
Download Case Study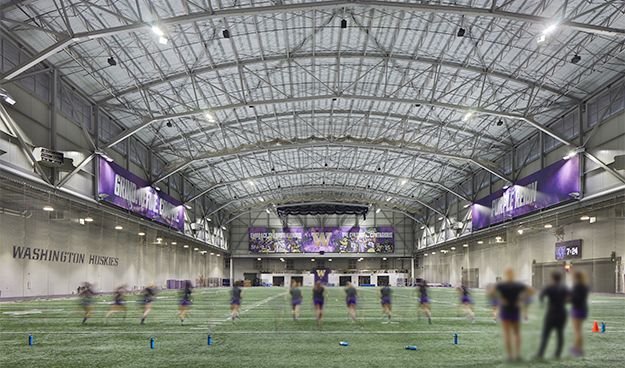 Opportunity
Solution
Benefit
There are many factors to consider in college athletics that can make a big difference in both an athlete's performance and the fan experience – lighting is one of them. Used every day from 7 a.m. to 10:00 p.m., the University of Washington's Dempsey Indoor Center is considered one of the premier indoor facilities on the West Coast. The 80,000-square-foot Dempsey is used as a practice facility for football, baseball, softball and soccer, and is home to the Husky track and field competition. Built in 2001 and with round-the-clock use, the Dempsey needed a lighting upgrade that provided better light coverage and increased efficiency.
"Whether you have teams hitting, catching or fielding a ball when practicing or competing in an indoor track meet, we need to ensure we have the best lighting coverage for events and competitions," said Megan Welsch, University of Washington director of operations and events. "We also wanted to be more energy-efficient while increasing the amount of light in the facility."
Looking for something else?