America's Best-Selling LED Bulb Just Got Better
Published on: 10/27/2014
---
DURHAM, NC -- Cree, Inc. (Nasdaq: CREE) introduces the New Cree® LED Bulb, delivering superior light performance while looking just like an incandescent light bulb at an even more affordable price. Featuring a new innovative design, the New Cree LED Bulb provides the same cost savings and 25,000-hour lifetime that made the original Cree LED Bulb America's best-selling LED bulb. Available as 40- and 60-watt replacements, the New Cree LED Bulb is available at The Home Depot® for as low as $7.97.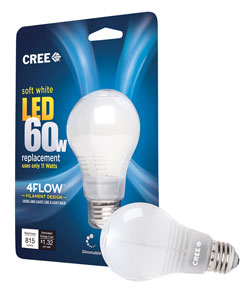 "Since the launch of the original Cree LED Bulb, consumers are rapidly switching to LED technology," said Betty Noonan, Cree chief marketing officer. "Our New Cree LED Bulb goes a step further, delivering even better light performance at a lower price. This new bulb provides consumers a better overall lighting experience which we know drives even more rapid LED adoption." 

The New Cree LED Bulb emits a warm, omnidirectional light thanks to its 4Flow™ Filament Design. This innovation creates a compact, optically balanced light source inside a durable, shatter-proof housing. The New Cree LED Bulb is available in 40- and 60-watt replacement options, delivering 460 lumens for the 40-watt replacement and 815 lumens for the 60-watt replacement in soft white (2700 K) and daylight (5000 K) color temperatures. Backed by a three-year warranty, the New Cree LED Bulb consumes up to 85 percent less energy* during its 25,000-hour lifetime and is dimmable.

Consumers can purchase the New Cree LED Bulb online today at www.homedepot.com/cree and in The Home Depot stores in November. Visit www.creebulb.com to learn more. 

* Based on Cree LED Bulb 40-watt replacements at 6-watt, $0.11 per kilowatt-hour, 25,000-hour lifetime and average usage of 3 hours per day.
About Cree
Cree is leading the LED lighting revolution and making energy-wasting traditional lighting technologies obsolete through the use of energy-efficient, mercury-free LED lighting. Cree is a market-leading innovator of lighting-class LEDs, LED lighting and semiconductor products for power and radio-frequency (RF) applications.
Cree's product families include LED fixtures and bulbs, blue and green LED chips, high-brightness LEDs, lighting-class power LEDs, power-switching devices and RF devices. Cree® products are driving improvements in applications such as general illumination, electronic signs and signals, power supplies and solar inverters.
Please refer to www.creebulb.com for additional product and company information.
This press release contains forward-looking statements involving risks and uncertainties, both known and unknown, that may cause actual results to differ materially from those indicated. Actual results may differ materially due to a number of factors, including the risk that actual savings and lifetimes will vary from expectations; the risk that we may be unable to manufacture these new products with sufficiently low cost to offer them at competitive prices or with acceptable margins; the risk we may encounter delays or other difficulties in ramping up production of our new products; customer acceptance of LED products; the rapid development of new technology and competing products that may impair demand or render Cree's products obsolete; and other factors discussed in Cree's filings with the Securities and Exchange Commission, including its report on Form 10-K for the year ended June 29, 2014, and subsequent filings. 
Cree® is a registered trademark, and 4Flow™ is a trademark of Cree, Inc.
The Home Depot® is a registered trademark of Homer TLC, Inc.