Lighting Experience Center
A Better Light Experience at Cree
Visit Our Experience Centers and Learn How Better Light Changes Everything
Cree drives LED adoption through groundbreaking advancements in LED lighting technology. Our state-of-the-art Lighting Experience Centers are the expression of Cree's long history of innovation and commitment to delivering a Better Light experience through our industry-leading LED lighting. The centers, led by Lighting Certified professionals, serve as interactive learning environments that teach guests about Better Light by experiencing the benefits first-hand.
Visitors to our Durham, NC (DLEC) or Racine, WI (RLEC) Lighting Experience Centers range from individuals encountering LED lighting for the first time to experienced lighting professionals seeking to expand their knowledge about the latest in lighting technology.
Guests attending events at either of our centers participate in educational discussions with experts from Cree's Lighting business unit. Each event is tailored to meet the specific needs of the group and can range in time from a few hours to a multi-day visit.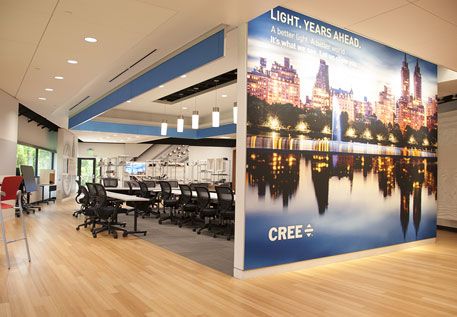 Sample Topics Include
LED Technology
Luminaire Design Philosophy and Data
Indoor Product Overview
Outdoor Product Overview
Cree SmartCast® Technology (Wireless and PoE intelligent light solutions)
Seeing is Believing Outdoor (Nighttime) Tour
Seeing is Believing Indoor Tour (unique to DLEC)
Lighting Manufacturing Tour (unique to RLEC)
AIA Presentations (Available Upon Request)
Special Topics as Needed
Experience the Cree Epicenters for LED Lighting Knowledge & Innovation
From interactive learning kiosks and virtual desktop designing to an interactive "seeing is believing" comparison space, the centers are designed to immerse visitors in Cree's industry-leading technology and products. At the centers, Cree hosts a variety of briefings and workshops taught by industry-leading professionals.