Allsports
Allsports finds that Cree® LED lighting accentuates its merchandise, delivers savings on utilities and puts to rest the hassle of constantly changing bulbs.
Lexington, KY
Indoor Lighting
Download Case Study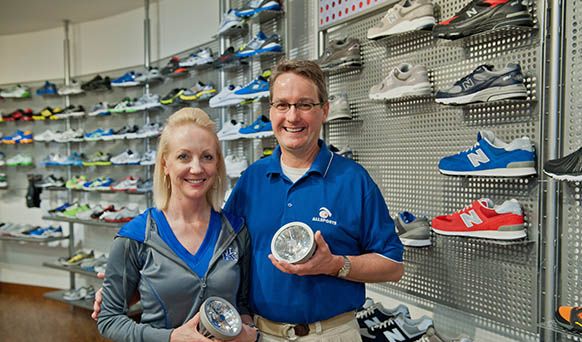 Opportunity
Solution
Benefit
Ron and Marge Atkins were always into tennis, regularly vying for amateur championship titles and enthusiastically advancing the sport in and around Lexington, KY. But when they first started playing, in the early 1970s, there wasn't a sporting goods store in the area that provided quality tennis gear or expert racket stringing.
So Ron and Marge opened their own store. "See the need, fill the need" was their guiding principle. And in their home on Clay Avenue, Allsports was born.
Word got around, demand increased and soon customers wanted other quality sporting gear —athletic footwear and apparel adorned with school and professional team logos, and more. The Atkins' living room could no longer accommodate that demand; Allsports had become a regional powerhouse.
You wouldn't know today — given the store's newest location near the center of Lexington's Fayette Mall — that Allsports was born of such humble beginnings. Or perhaps you would — given the Atkins' attention to every nuance of customer service, as if every customer were a guest in their home.
Allsports' commitment to excellence extends to the store's infrastructure. So when it came time to select a lighting system for the new location, the Atkins turned to the industry champ: Cree. 
Looking for something else?