Florida Atlantic University
With a Cree® LED solution now installed in two four-story parking garages, Florida Atlantic University is projecting to save $2 million in energy and maintenance costs.
Boca Raton, FL
Outdoor Lighting
Download Case Study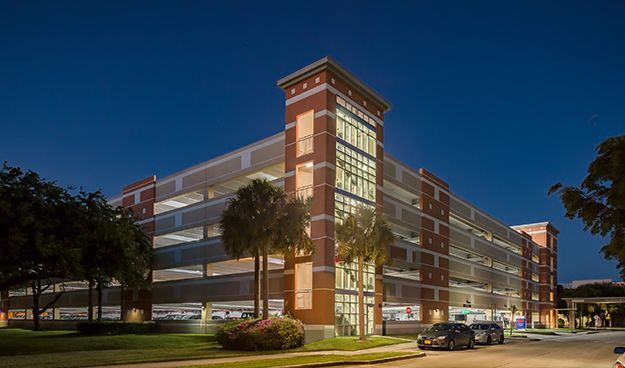 Opportunity
Solution
Benefit
The primary impetus for a lighting upgrade of two four-story parking garages on the Florida Atlantic University campus in Boca Raton was to reduce maintenance costs. Florida Atlantic is a member of the 12-campus State University System of Florida, and being sound stewards of state revenues is an everyday objective.
The garages are about a decade old, and the original lighting — metal halides — was still installed. "They were hard to keep up with," says Michael Dipple, the university's director of engineering utilities and energy management. Lights were constantly burning out. And even when they weren't, the quality of the lighting was less than top-notch.
The garages are primarily for student parking, and see pretty steady traffic from 8 in the morning until 10 in the evening. The lights remain on 24 hours a day. "So in considering an upgrade, we were looking for a solution with longevity," Dipple says, "and then we started thinking about energy savings – all of which led us pretty quickly to LEDs."
According to Stacy Volnick, Vice President of Administrative Affairs and Chief Administrative Officer, "This project was a joint initiative between Facilities and Parking & Transportation. As we looked at ROI projections for the job, I became convinced that Florida Atlantic University would see substantial energy and maintenance cost reductions."
As a result, the university elected to go with Cree, a global leader in the industry.
Looking for something else?