Frank Subaru
Frank Subaru illuminates its new 22,000-square-foot National City lot with a complete indoor/outdoor Cree® LED lighting solution.
National City, CA
Indoor Lighting
Outdoor Lighting
Download Case Study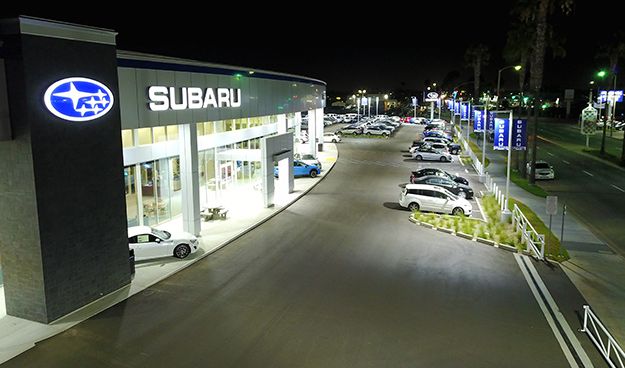 Opportunity
Solution
Benefit
Jerry Drewett was no stranger to the virtues of LED. Drewett – Information Systems & Facilities Manager for the Frank Motors Group in National City, California, and a 35-year master electrician – says that he'd had his eye out for some time for the perfect opportunity to install an LED solution in one of the four properties he oversees.
Last year, he spied that opportunity. A 7,000-square-foot showroom that had previously been used to sell pre-owned cars was being transformed into the brand-new 22,000-square-foot Frank Subaru. "Since we were going to completely renovate the front showroom and replace the entire lighting system – indoor and outdoor, it made perfect sense to look at an LED package," Drewett says. "I was sold on the LED product as a whole; it was the only solution that I was looking at for a new facility like this."
But which manufacturer should management select? That would require some investigation – and investigate Drewett did. He spent three months looking at available products. He attended LIGHTFAIR International, the world's largest architectural and commercial lighting trade show. And he hit the road, traveling across Southern California and into Nevada, examining lighting installations and exploring the nuances of the many options.
Looking for something else?