Pilot Flying J
Pilot and Flying J Travel Centers have installed Cree® interior and exterior lighting at nearly 300 stores to-date and plan to roll out dozens of new stores annually over the next five years.
Clear Brook, VA
Outdoor Lighting
Download Case Study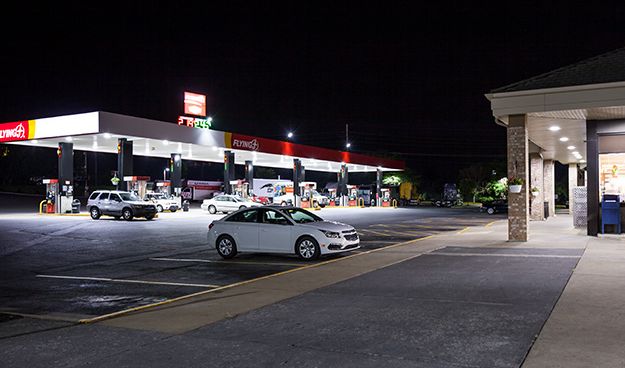 Opportunity
Solution
Benefit
On Nov. 20, 1958, James Haslam II opened the first Pilot store in Gate City, VA, and now the Knoxville, TN-based company is the largest operator of travel centers in North America, with more than 750 facilities in 44 states and Canada.
Pilot Flying J has risen to the apex of its industry with a dedication to "fueling life's journeys" – whether behind the wheel of the family sedan or a semi. Motorists have come to rely on Pilot and Flying J travel centers for the gamut of their travel needs, delivered in a familiar, pleasant, well-organized setting.
Cree LEDs are now heightening that experience.
Pilot Flying J began to retrofit some of its stores with LEDs in 2013. The objective was to reduce energy costs while gaining more consistent lighting within the stores and on the exteriors with brighter, more widely dispersed light.
In March 2015, Bryan Martin, the company's Energy Manager, gained approval to step up the process. "We were off and running from there," Martin affirms.
Looking for something else?