Wind Point Lighthouse
The historic Wind Point Lighthouse gets a lighting upgrade. Now what's history? The old metal halide floodlights — replaced with a Cree® LED lighting solution.
Wind Point, WI
Outdoor Lighting
Download Case Study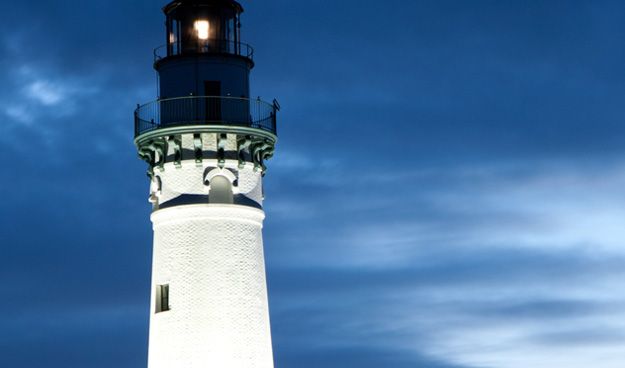 Opportunity
Solution
Benefit
Located on the shores of Lake Michigan in the Village of Wind Point, Wisconsin, the historic Wind Point Lighthouse has reliably stood for more than a century. Built in 1880 to help ships navigate safely in the area, the 108-foot-tall lighthouse remains one of the oldest and tallest active lighthouses on the Great Lakes.
The lighthouse has certainly seen some significant changes in its more than 100 years of operation. Electricity was brought to the structure in 1924. This eliminated the daily climbs to its top made by Lighthouse Keepers to deliver the needed fuel to keep its beacon lit. Later, in 1964, the U.S. Coast Guard updated the lighthouse with a fully automated system and stopped staffing the site. In 1980, the lighthouse was added to the National Register of Historic Places. And in 1997, ownership was transferred from the Coast Guard to the Village of Wind Point, with the requirement that the lighthouse be maintained as a historical landmark.
Owning and acting as caretakers of this beloved landmark is a source of pride for the Village, but maintaining a nearly 140-year-old lighthouse isn't always easy. Open year-round at no charge to the public, the Village relies on fee-based tours and space rentals for events to assist in generating the needed funding to maintain the grounds and lighthouse. "Historically property taxes have been used as the funding source to maintain the lighthouse, but today we are trying to be more strategic and working towards a model where the lighthouse is self-sufficient or revenue neutral," said Susan Sanabria, Wind Point Village President. Saving energy and maintenance dollars that could be diverted elsewhere was certainly appealing to the Village, but when it came to illuminating one of the most important landmarks in the region, the lighting of the lighthouse could not be compromised, at any price.
Looking for something else?