A Powerful Rx for COVID Budget Shortfalls: LED Street Light Conversion
Cities are turning to LED street light conversion to meet COVID budget shortfalls.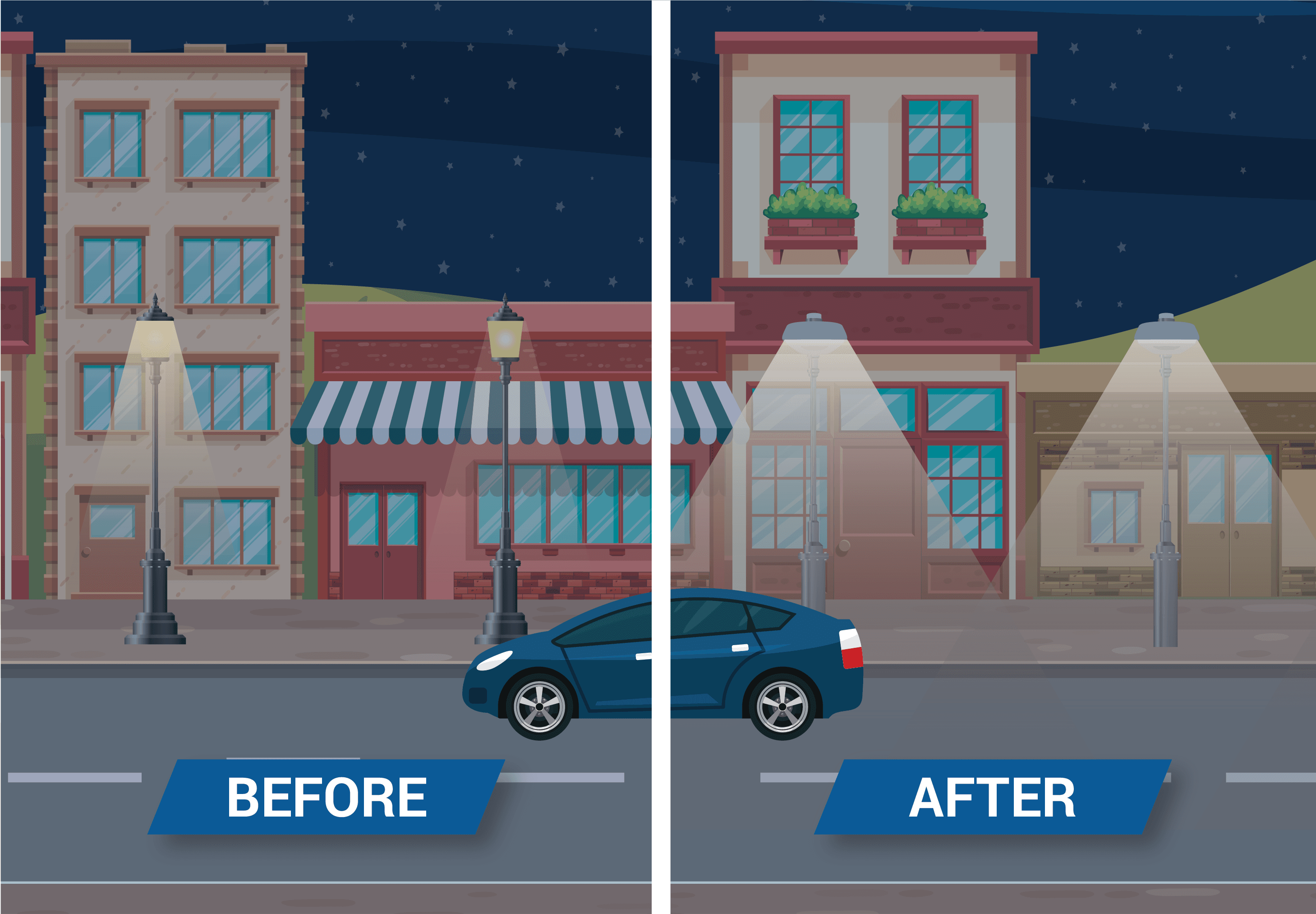 Published on: 12/6/2021
---
Cities are turning to LED street light conversion as a way to meet COVID budget shortfalls.
Immediate benefits include substantial energy and maintenance savings, sustainability.
A phased approach lets cities make the conversion today while keeping their technology options open.
As COVID-related budget impacts continue to squeeze municipal revenues and strain public services, some cities are turning to LED street light conversion to help balance the books and adjust to post-COVID realities. A modern digital street light program is a highly effective way for a city to immediately cut expenses and shrink its carbon footprint while improving public safety.
According to a recent survey of the nation's 300+ largest cities by the Northeast Group LLC, investment in new LED street lighting could total $8.2 billion over the next decade. Since the group's last survey in 2018, the number of cities carrying out full-scale LED conversions has increased from 107 to 185.
Why street lights – and why now? Simple economics: an LED conversion can provide immediate and substantial savings. The city sees reduced energy costs, a smaller carbon footprint and improved public safety.  Taxpayers see more money spent in areas like street maintenance, pothole repair and basic services, and less spent replacing burned out bulbs and paying the energy bill.
"Street lighting can be up to 40% of a city's energy bills," observed Benjamin Gardner, president of the Northeast Group, in a February 2021 article in AXIOS, "so you see huge cost savings across the board. Those cost savings will also be reflected in cities' lower carbon footprints."
And as cities look for ways to meet sustainability goals for reduced emissions, an LED street light conversion can figure prominently: for many municipalities, street lights are the single largest item on their energy bill.
Energy and maintenance savings, sustainability and longer useful life – these are the elements of LED street lighting's slam-dunk business case. Yet for many cities, the full return on investment may be still to come. Like our bridges and roadways, the nation's street lights are part of an aging infrastructure and on average are more than 25 years old. But unlike bridges and roadways, upgraded street lights quickly pay for themselves and may even become revenue generators.
An LED street light conversion is typically the first step in creating a smart-city digital infrastructure that can support any number of Internet of Things (IOT) sensors and devices, from cameras, microphones, speakers, air quality monitors – the list is almost endless – as well as share information with other nodes in the network and respond to instructions from the network.
The potential seems limitless. But while vendors and industry experts hash out technology standards and debate the merits of open-source versus proprietary solutions, an LED street light conversion doesn't have to wait.
"At this point, what's important is to keep your options wide-open," advised Eric Hardesty, Cree Lighting's Product Marketing Manager for Street Lighting. "You can make a strong case for not locking into a connectivity technology right now and instead install a solution that's future-ready. That way, whatever you decide to do in a year or several years – and whatever the industry migrates to in the meantime – you'll have an installed base that can be easily networked using the prevailing technologies and standardized protocols."
In the meantime, LED street light conversion is a proven way for cities to counter decreased revenues with a proactive stance that can save millions in energy and maintenance costs, drive carbon reduction and sustainability goals, and provide worry-free service for several times longer than the old technology.
"And in time, those same LED street lights may become an invaluable source of real-time insight to improve quality of life in your community," Hardesty observed. "When you look at the benefits, there's no reason not to embrace a digital conversion right now – and every reason to do so."