Crisp Color. Clean Lines. Better Light.
The new Stylus™ Linear Series is the perfect choice for modern spaces.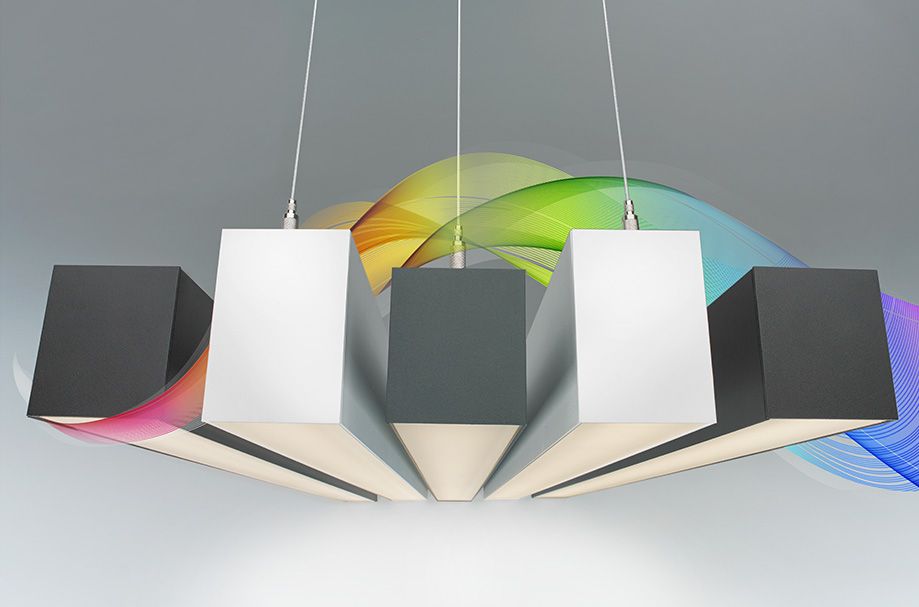 Published on: 8/8/2019
---
Geometric. Angular. Squared. We know you're hearing and speaking these words often as you design and specify new spaces. As we move through 2019, minimalist design trends are expected to continue. Complex, ornamented lighting fixtures don't blend well in a clean, styled space. You need something simple and sleek that can still make a statement.
The new Stylus™ Linear Series is simple geometry created with a designer's vision in mind. Not only will it make an impact in any space, but it also makes an impact in a crowded market. The Stylus™ luminaire isn't your typical linear fixture – its sleek, seamless lines; brilliant color quality; ultra-smooth dimming down to one percent; and various mounting options, lengths and optics enhance both form and function to truly separate this portfolio from the pack.
Versatility Meets Simplicity
Linear fixtures are more than just simple lines of light. With the Stylus™ Linear Series, they're also extremely versatile, bringing creativity and style to any space. At a slim 3 inches, the Stylus™ portfolio is available as a suspended, recessed, surface mounted or wall mounted fixture with downlight and uplight choices. Between a housing design that can fit any ceiling type and the ability to mix and match multiple optics and mounting options, designers and specifiers are able to configure the Stylus™ portfolio to fit any application. Whether you're designing or specifying for a new office building, modernizing a university classroom or renovating a waiting area at a hospital, the versatility of the Stylus™ Linear Series will make your job easier.
Color So True You'll Think Your Eyes Are Playing Tricks on You
You don't have to sacrifice lighting performance to get a striking lighting design. Our innovative Cree TrueWhite® Technology uses best-in-color LEDs to deliver beautiful, warm white light. The 90+ CRI Stylus™ Linear Series also has a high R9>65 to make those warm colors really pop, as well as best-in-class color fidelity ≥92 and gamut ≥100 across the entire line and CCT options (30K, 35K, 40K), meaning the luminaire provides uniform light distribution with the truest natural colors. As color rendering measurement evolves and TM-30 standards are more widely used, the Stylus™ Linear Series will be paving the way with industry-leading color fidelity for true color and perfectly saturated gamut levels to bring out the richness and vividness of any designer's palette.
True color is not lost even when dimming Stylus™ fixtures, as they can smoothly dim all the way down to one percent without losing color fidelity, with the dimming and control platforms that specifiers prefer.
Architect, Designer, Specifier and Installer Friendly
By taking a modular approach, the Stylus™ Linear Series provides simple design in, ordering and installation for a worry-free experience. The option to run 2' to 72' increments with just one power drop affords architects and lighting designers the ability to effortlessly configure the Stylus™ Linear Series into any space for a perfect fit. With low, medium and high light output options, specifiers can choose a lumen package that best complements their vision in both downlight and uplight configurations. Pre-installed connector brackets allow for continuous row applications, eliminating gaps between fixtures. Just think – if you're designing or specifying an application where you need to run long, continuous, gap-free lines of lights, the Stylus™ Linear Series offers a 12' suspended fixture with just two suspension mounts and minimal wiring to enable faster, easier field assembly and installation.
Stylus™ Linear Series is the perfect portfolio to design into any space for a fresh, clean, simple look. Its ability to show true colors and the versatile approach to lighting design make it a winning choice for any architect, designer, specifier and installer. The Stylus™ Linear Series truly is linear lighting, simplified.
Ready to start designing the Stylus™ Linear Series into your next project? Download the Stylus™ Design-In Guide for helpful information as you design your project, and then use our configurator tool to easily create a bill of materials and request a quote.