Is it Time to Update Your Gas Station Canopy Lighting?
Get quick tips for making the right impression and increasing repeat customers.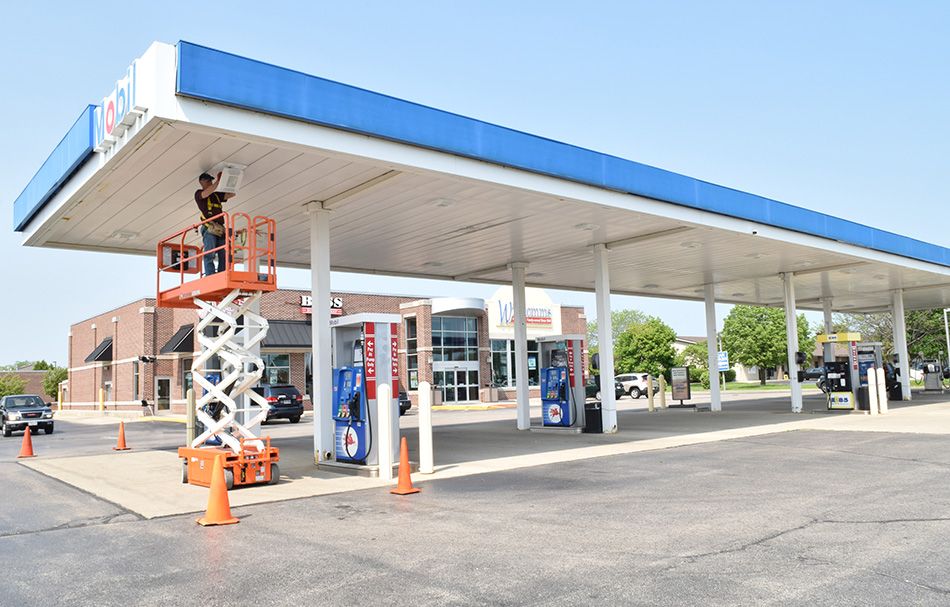 Published on: 8/28/2020
Updated on: 3/27/2023
---
From a passing glimmer along the highway to quick pitstop for fuel, your petroleum service station doesn't have long to make its first impression on motorists. Will traffic be drawn to your station from the road? Will people feel welcome and safe while there? If you're unsure, it may be time to retrofit your petroleum canopy lighting.
Here is what quality lighting can help you accomplish:
Get Noticed: How Lighting Helps Draw Customers In
With other service stations often just around the corner, your first priority is getting traffic to choose yours. Crisp clean LED lighting can help make that happen by increasing visibility from the road and making your business eye-catching and attractive. For this, the drop lens available with our CPY Series and CPT Series offers added sparkle.
Eric Seitz, owner of 4 Sons Food Stores, Inc. in Phoenix, Arizona, can see the difference since he installed Cree Lighting. "Our stores are so bright now that they bring in customers from the highway," he shared. "Neighboring stations end up getting lost in the dark and we stand out in the crowd."
Light communicates to passersby that your location is open for business. If you don't operate 24/7, program your lighting to dim or turn off or opt for occupancy sensing so that customers won't meet with frustration when they turn in and discover the station closed.
Get Remembered: Deliver a Positive Customer Experience
Once a customer has pulled in, a clean and welcoming environment makes them feel comfortable, safe and likely to have repeat visits.
A 2016 study of street lighting by the University of Grenada observed that people perceive areas illuminated with white light as safer than those illuminated with yellow-hued light. Apply that to the outdoor lighting at your service station with a white LED solution versus a legacy solution with a lower color temperature.
Another subtle but impactful detail is uniform light distribution. Cree Lighting luminaires highlight the outdoor area and the front of the gas pump evenly. Combined with a minimum of 70 CRI, the uniform light and well-rendered colors make your brand colors pop.
Bryan Martin of Pilot Flying J in Clear Brook, Virginia, has received a lot of positive feedback on the Cree Lighting luminaires at his locations. He says "[customers] notice right away; the stores just look more modern."
Get Peace of Mind: Support Security and Safety
Light distribution and color rendering also play a role in safety and security. As you monitor activity with surveillance cameras, your cameras need to be able to capture a reliable, good quality image to be useful. A red car or clothing may look brown under HID lamps. Hot spotting or non-uniform lighting can make areas of the lot look too dark or too overexposed to see clearly. The color-rendering, distribution and quality of Cree Lighting luminaires will help you easily avoid these issues.
Another important consideration for safety is the gap between your canopy and service station building. Some solutions create very high glare for customers and inadvertently blind them as they exit the building and return to their cars, perhaps obscuring their view of a passing car or other obstacle. Cree Lighting's application engineering team can provide expert lighting design that will ensure safe and even illumination for this zone. You can fully rely on the expertise of our application engineers. 
Get Savings: Reduce Maintenance and Energy
While other solutions may cost less up front, Cree Lighting solutions ensure savings that last through their product lifecycle — energy efficiency, long life and lower maintenance. Petroleum sites report an energy savings up to 70% after an LED canopy lighting conversion. Moreover, both our CPY Series and 304 Series offer 10 year warranties, as do many of our interior and exterior luminaires, so that you can be sure your investment is built to last.
If any maintenance is needed, the CPY Series can be serviced from below the canopy deck to avoid renting a costly lift truck.
Lastly, most of our outdoor luminaires feature ColorFast DeltaGuard® Technology, the finest industrial grade paint finish available, to keep your luminaires safe from fading, rust and other environmental wear.
Get in the Know: Frequently Asked Questions about Gas Station Lighting
Get started?
Service station projects can be completed quickly. A full array of both interior and exterior products including beauty plate options will ensure that our team can find a retrofit solution to fit your existing canopy with a clean, flush design.