Let There Be Light.  The Right Kind of Light.
Outdoor area lighting has long been plagued by a seemingly simple problem. Users want efficiency, comfort AND control, all in the same luminaire. But choosing any two can compromise the third. Until now.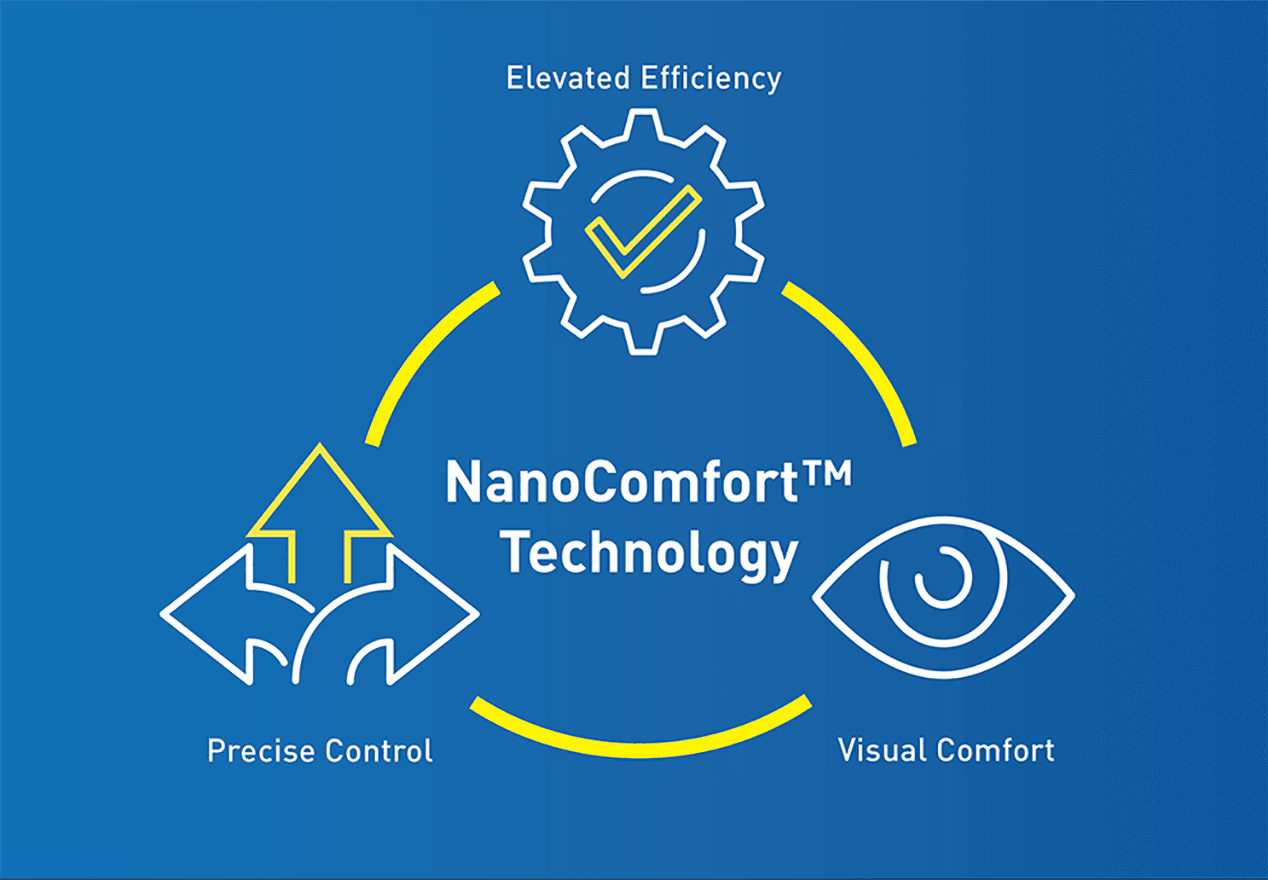 Published on: 4/18/2023
---
Outdoor area lighting has long been plagued by a seemingly simple problem.  Users want efficiency, comfort AND control … all in the same luminaire.
But choosing any two can compromise the third.  Until now.
Transcending this push-pull was the motivation behind the development of one of Cree Lighting's most important advances in recent years – our new NanoComfort™ Technology.
All The Performance of NanoOptic® Technology With Even Greater Comfort
NanoComfort™ Technology distills the best of two decades of ground-breaking optical engineering into a modular system with near-universal applicability. Like the NanoOptic™ Technology that preceded it, NanoComfort™ delivers excellent efficiency and control, while elevating visual comfort to new levels. NanoComfort™ Technology adds unsurpassed glare control and visual comfort to the high-efficiency, precisely controlled illumination that made NanoOptic® Technology an industry standard in outdoor lighting.
Like NanoOptic® Technology, NanoComfort™ Technology takes advantage of the fact that LEDs are point sources that emit light across 180° or less. Contrast that to bulbs, which throw out light in more or less 360°. That means at least half the light they produce must be redirected to where it will be useful – and that inevitably degrades efficiency and precise control.
The basic building block of NanoComfort Technology is a compact 4x4 array of LEDs. Each of the 16 LEDs in a module is in contact with its own acrylic polymer lens to capture and precisely direct light - the gold standard for preserving efficiency and control.
These tiny sources pack a lot of luminance into a small surface area. Until now, packing all that light into a small space could lead to harshness, pixelation and glare.   
So How Do We Manage Glare in Our Outdoor Spaces at Night? 
The Illuminating Engineering Society's (IES) technical definition for glare is "the sensation produced by luminance within the visual field that is sufficiently greater than the luminance to which the eyes are adapted causing annoyance, discomfort, or loss in visual performance and visibility." The International Dark Sky Association (IDA) defines glare as "excessive brightness that causes visual discomfort". Most of us might have a hard time defining what glare is, but all of us know it when we see it, and unfortunately, we likely see it far too often in our outdoor spaces at night.
If we agree that we don't like glare, why does it seem so common? First, glare is not a new phenomenon, created by LED luminaires. HID fixtures, the predecessors to LED technology, certainly struggled with glare. Second, non-uniformities in our visual field enhance the perception of glare. An example would be bright headlights approaching you at night. The contrast of this bright source surrounded by darkness can certainly present challenges related to glare. But if that same vehicle, with the same headlights, at the same intensity, approached you during the daytime, there'd be very little contrast and no glare concerns. Unfortunately, it's likely important to recognize that reducing glare at night is not an easy task. Like headlights at night, lighting fixtures viewed against a dark sky create significant contrast and the potential for glare.
Although managing glare in parking lot applications can be difficult, it is possible. At the same light output - with all other things being equal - more light sources, producing less light individually, over a broader surface area, will be more successful at managing glare than fewer light sources, producing more light individually, over a smaller surface area. Cree Lighting's OSQ Series C does the former, and then enhances the visual experience further through its NanoComfort™ Technology, sculpting and cutting facets into each optic to relieve glare and harsh light common in other LED products.
Another significant way to reduce glare is to limit the direct view of the light source. For street and area lighting, this means eliminating the use of products that require tilt and moving beyond the belief that tilting and aiming light is a good thing. Both the IDA's Fixture Seal of Approval and Design Lights Consortium's (DLC) LUNA (Light Usage for Night Applications) programs seek to minimize light pollution, including glare, by limiting the tilting of fixtures to no more than +/- 10 degrees, intended for leveling purposes only. Well-designed products can be aimed parallel with the ground to reduce direct view of the light source, while still optically distributing light effectively on target, with no tilt required.
High angle light can also prove problematic as it relates to glare. The IES's B-U-G Rating system (Backlight, Uplight and Glare) includes elements that try to better predict the amount of glare a given luminaire may produce. In terms of glare, this system pays attention to the amount of light being produced at or above a 60-degree angle (High and Very High Glare Zones) that can disproportionately produce more glare than light being produced at lower angles. This is not a perfect system, and in some cases, higher angle light is required to provide adequate light levels based on wider pole spacings. Even for new construction projects, placing poles more closely together could require more poles and fixtures, leading to more cost and energy consumption. Therefore, B-U-G Ratings may be better suited as a secondary metric, after lighting design has qualified two or more potential products in terms of their ability to achieve the required lighting performance. Once these acceptable solutions are identified, preference could be given to the product with the lowest "G" rating. Specifying a "G" rating first may prove too constraining, and potentially prevent lighting objectives from being achieved.
Shielding can also be deployed to help mask the light source. The downside to this approach is that shielding also reduces delivered lumens, but not energy consumption. When possible, a better approach is to find optically superior products that can limit glare concerns without shielding. However, since glare can be somewhat subjective, and since site-specific conditions can vary greatly, it is unlikely that the need for shielding will go away completely.
How Can You Find Optically Superior Products?
The answer is through lighting design…
Lighting design helps validate good-to-great optical design at the application level. Lighting design also provides valuable guidance on appropriate light levels based on the needs of the application and can help reduce the urge to over-light our outdoor spaces. Many fail to realize the problems created by over-lighting at night. It results in overspending (buying more lumens than you need and spending more on energy to produce unnecessary light) and introduces more light into an application than is needed, which leads to increased light pollution, including increased glare.
Today there is more awareness around light pollution, including glare, than ever before. But awareness by itself won't lead to better outcomes as it relates to glare in our outdoor spaces. Our nighttime environments will only improve one application at a time, and only with knowledgeable participants that are committed to doing better. In some cases, this commitment will mean spending a little more for superior products that more effectively manage glare concerns, while improving the nighttime lighting experience for us all.  
… and products and technologies you can count on.
With Cree Lighting's new NanoComfort™ Technology, you can eliminate the trade-offs in outdoor lighting.  The acrylic optics are sculpted and cut into facets that relieve the glare and harshness.  So you can capture and precisely direct light  to deliver superior visual comfort, appearance and high efficiency, with the confidence that lumens only go where you want them.
The payoff? Better Light for all.  
Oh – and Cree Lighting luminaires with NanoComfort Technology are built right here in the U.S.A.