Lighting For the Federal Government: The New Requirements
When it comes to specifying lighting solutions for the nation's largest commercial landlord, here's what you need to know.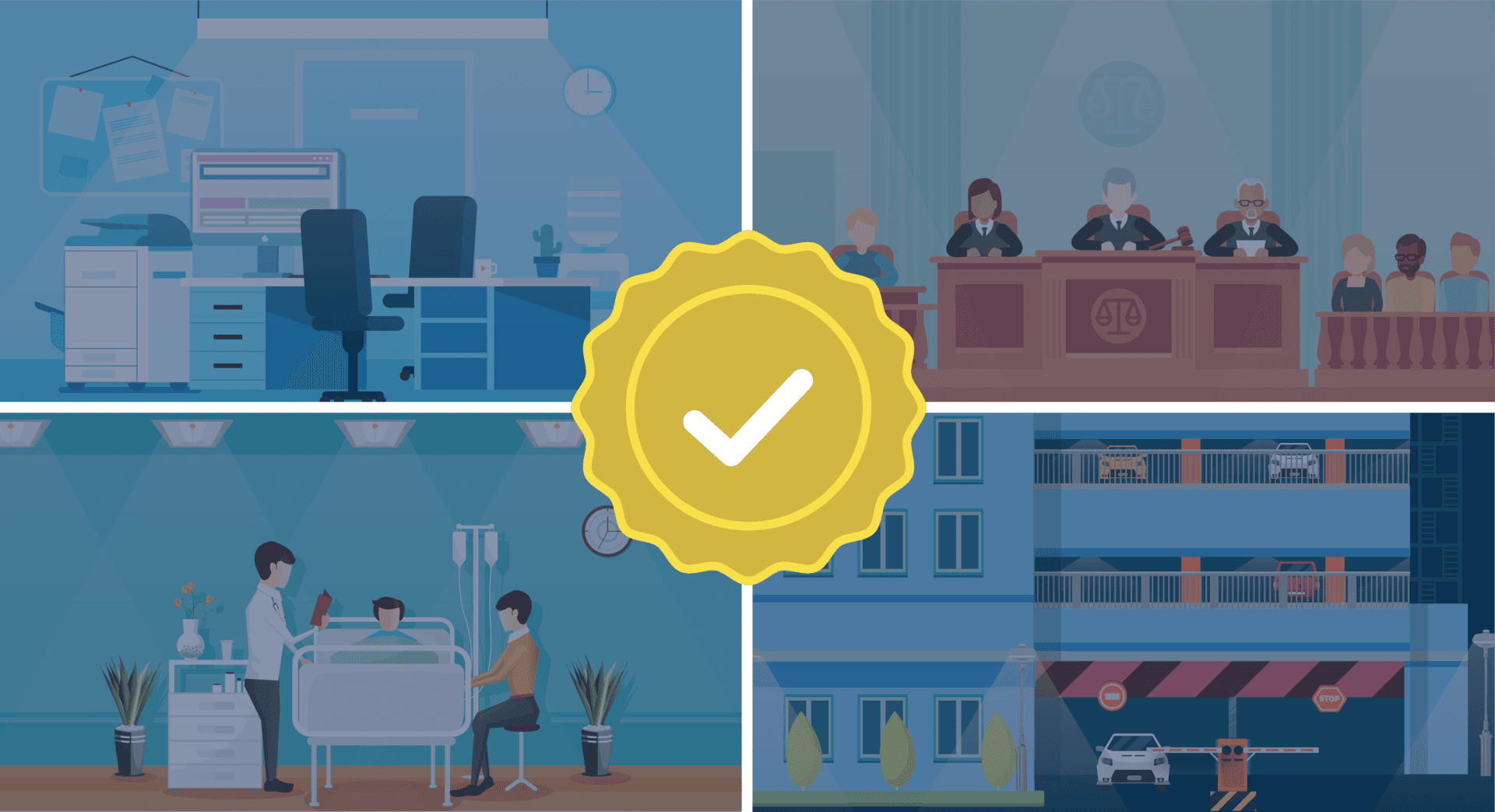 Published on: 4/19/2022
---
The General Services Administration (GSA) manages 1.1 billion square feet of space for the federal government. They've just updated the "P100"  ̶  a must-have 316-page playbook for anyone constructing or renovating federal buildings.
This post takes a high-level look at the most significant requirements in the new P100 that address facility lighting.
Cree Lighting is a GSA-approved manufacturer headquartered in Racine, Wisconsin, and most of our relevant product solutions meet Buy American Act or Trade Agreements Act requirements.
Now that the Infrastructure Investment and Jobs Act (IIJA) has passed, virtually every area of the country can expect to see a surge of construction at federal facilities, including new construction and long-deferred renovations, expansions and maintenance updates. Tasked with overseeing it all is the GSA, which manages the bulk of the federal government's non-military holdings – a real estate portfolio of more than 127,000 owned and leased buildings that provides the workspace for 1.1 million federal employees and includes everything from offices, warehouses, courthouses and child care centers to land ports of entry, barracks, laboratories and hospitals.
(Notable fact: the U.S. Department of Defense manages twice the number of buildings and square footage than the GSA, but they've got their own version of the P100.)
The P100 isn't exhaustive: various building categories have their own separate design guides and manuals providing detailed requirements for specific types of facilities. But it provides four levels (a baseline and three tiers) of mandated standards that apply universally to new construction, minor and major repairs and alterations, historic preservation and energy savings performance contracts.
P100 Chapter 6: Electrical Engineering opens with an overview of lighting requirements (pp. 186-201). Among the significant requirements and declarations:
The use of DLC-approved products to secure all available utility rebates for the GSA
The use of domestic construction materials (Buy  American Act) for construction contracts performed in the United States (excepting waivers granted or per FAR 25.2)
A Gold rating in LEED certification for new construction and major renovations
Overall building energy efficiency that's at least 30% higher than ASHRAE 90.1 E.C.L
Mandatory daylighting wherever possible
Lighting controls also figure prominently: "The GSA intends to lead the Govt. in owning and operating Smart Buildings."
Most of the new requirements reflect an ongoing move away from prescriptive specifications to more "performance-based" requirements. In other words, the GSA only mandates the outcome, enabling project teams to innovate and implement the best strategy to satisfy the requirement. As the P100 directly acknowledges, there are a lot of factors to consider in lighting design:
"The quality of a visual environment considers a wide range of variables including luminance balance, color appearance, visibility of multiple visual tasks (often accomplished by a layered lighting system), visual comfort, daylight and views, control and finally, user acceptance."
But DLC Certification is a Must
However, one prescription is definite:
"All new interior and exterior lighting shall utilize solid state high-efficiency luminaires that meet the requirements of DesignLights Consortium (DLC)."
The P100 essentially requires the pursuit of all applicable utility rebates and incentive programs at the local, state and federal level—and rebate checks must be submitted to the GSA.
P100 stipulates that controls must be provided in accordance with ASHRAE-90.1 and other BAS commands such as demand response, emphasizing that controls not only enable greater energy efficiency but add to user satisfaction. 
In general, lighting is expected to support overall energy and sustainability mandates. In particular, new federal buildings must be designed to be 30% more efficient than ASHRAE90.1 energy consumption levels – and "the lighting system design should be developed to assist the overall building in achieving this goal." 
The GSA also suggests it's going to play a primary role in pushing the Federal Government into smart buildings, and when discussing the advantages of controls notes:
"An additional element of lighting control shows the building manager the real time energy use of the different building systems including lighting … to identify potential maintenance and operation issues or potential areas for additional energy savings."
"Utilizing the latest technology, building systems, and programs such as GSAlink, GSA can optimize energy usage and operations."
Exterior Site Lighting, Open Parking Lots and Roadway Lighting
For exterior lighting, the P100 refers lighting designers to the IES Handbook recommendations and stipulates that lighting:
"…must comply with the IDA/IES Model Lighting Ordinance (MLO) for lumen density limits and backlight, up-light, and glare (BUG) ratings or light pollution and light trespass performance method.
Exterior luminaires and control systems must comply with all local zoning laws, and lighting levels for exterior spaces must not exceed the IES Lighting Handbook recommendations."
More About Parking Structures
This is one of the places the P100 gets fairly specific:
 "ASHRAE 90.1 requirements for controls related to parking garage luminaires.
Luminaires must meet the following standards:
Meet DesignLights Consortium Version 5.0 (outdoor mid lumen output) or greater efficacy requirements.
IP-66 & NEMA 4X rated
Withstand mechanical vibration
Life of minimum 50,000 operating hours for solid state lighting before reaching the L70 as calculated per IES standard TM-21
Luminaire classification per IES TM-15
Occupancy sensor-based dimming of egress, exits and enclosed stairway lighting"
Finally, the P100 sets about to tame the wild west of LED retrofits with detailed constraints for their use, including requirements for photometrics and glare control, UL rating, DLC Qualification, 0-10V dimmability and "low risk" of flicker.
At the same time, the P100 encourages 
"…installing linear LED retrofit kits during retrofits or when relamping fluorescent fixtures in facilities with high energy costs and higher light levels than required by P100."
"…installing LED downlight lamps to replace CFL fixtures during retrofits where advanced lighting controls are not desired or useful."
Count On Cree Lighting to Keep You Current and Compliant
There's a lot packed into the 17 pages of the P100 that directly addresses lighting, and lighting specifiers on federal projects will want to download the most recent standard as a reference.
The good news: Cree Lighting is an American-based company with an entire portfolio of GSA-compliant interior and exterior lighting and controls solutions to simplify product selection and specification. Watch the video to learn more about our dedication to designing, testing and building an industry-leading portfolio made with mid-western craftsmanship.
Your Cree Lighting agent or distributor can answer any additional questions you might have, and we'll continue to share what we learn as the industry gains more experience in putting the GSA's new standards into practice.