Lighting The Convenience Store Transformation
As convenience stores reinvent themselves, the importance of lighting only continues to grow.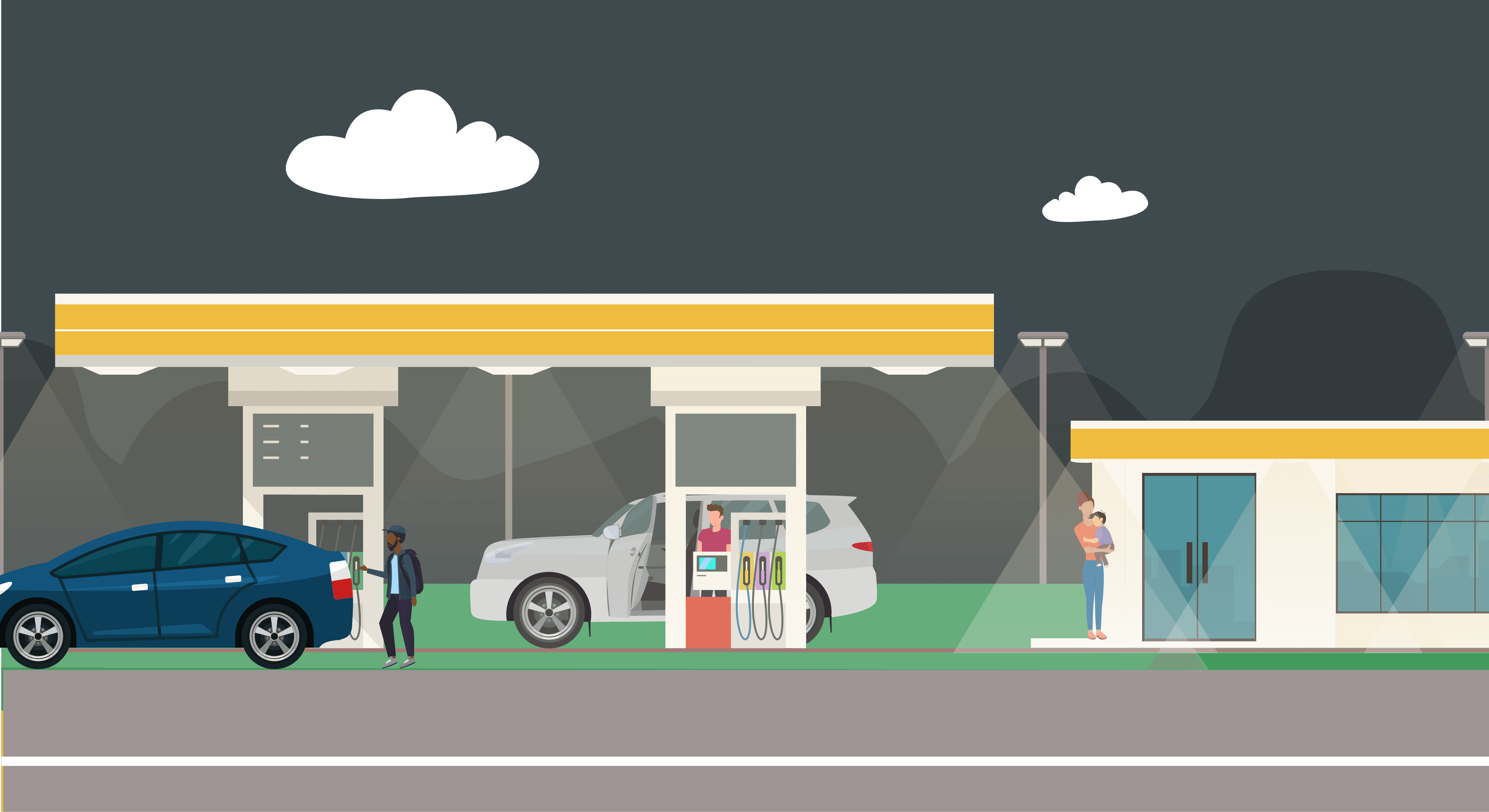 Published on: 11/29/2021
---
What tomorrow's retail spaces will look like is anyone's guess, but we'll make two predictions: brick-and-mortar stores will keep the lights on, and customers will return.
Have you noticed that petroleum marketers are changing? Contactless payment and flex pay. Take-home meals and private-label foods. Drive-thru and curbside pickup. Step into any leading convenience store, and what you'll see is part upscale c-store, part fast-food restaurant and part grocery store.
That's because for a growing segment of consumers, going to the "gas station" is no longer just about fuel sales. According to CSP Magazine, the millennial preference for ready-to-eat foods and fewer trips to the grocery store has driven the expansion of convenience store food offerings. The pandemic has only added momentum to this trend: C-stores were among the few essential businesses allowed to remain open during the height of the shutdown, and even as other retailers have reopened, CSP notes that many consumers continue to seek local, less crowded shopping areas.
Fuel retailers are encouraging this trend with upscale environments and experiences, such as expanded food service areas, more fresh foods and prepared meals to take home. Leading convenience store chains have dinner menus that include burgers, pasta, and chicken available in store, for curbside pickup and via delivery by the likes of DoorDash and Grubhub.
With contactless payment, curbside pickup and flex-pay options becoming table stakes, where should the savvy c-store owner invest to elevate the customer experience and boost consumer loyalty? Results of a recent Petroleum Equipment Institute (PEI) survey strongly suggests a definitive answer: better lighting.
In the survey, PEI asked what role forecourt upgrades play in building consumer loyalty. On a scale from 1 (not important at all) to 5 (extremely important), here's how PEI members scored eight common upgrades:
| | |
| --- | --- |
| 1. Clean, safe fuel islands | 4.58 |
| 2. Good under-canopy lighting | 4.37 |
| 3. Well-maintained hanging hardware | 4.22 |
| 4. Other exterior lighting | 3.92 |
| 5. Easy-to-read fuel price signage | 3.91 |
| 6. Canopy branding and appearance | 3.86 |
| 7. Fuel dispenser upgrades | 3.82 |
| 8. Forecourt EMV payment technology | 3.73 |
While two of the six upgrades explicitly address lighting, lighting has the largest impact on each of the first six items.  That's because of all the ways to boost curb appeal, the strategic application of lighting is the most powerful, immediate and comprehensive.  Andy Strickland, Cree Lighting's Vice President of Petroleum Lighting, points out that properly staged lighting can transform an otherwise typical retail location into a vibrant standout.
"The right lighting can go a long way in creating an environment in which consumers, employees, vendors and neighbors feel comfortable, welcome and secure," Strickland observes. "Feeling safe is a basic need and creating a sense of safety is an absolute must for petroleum stations."
In fact, if forecourt and gas island lighting is poor, a potential customer may drive away before even checking the price at the pump. GasBuddy's 2017 Foot Traffic Report found that among stations near interstates, those that consumers rated as having above-average outdoor lighting received a whopping 50% more visits between 9 p.m. and 5 a.m. than those with below-average ratings.
Other industry studies not only show that consumers will drive the extra mile to find a station that feels clean and safe, but that consumers base their judgments on visual appearance.  For example, in a 2020 Market Force study, when consumers were asked how they decide where to refuel, 73% chose gas price –  but 53% said the quality of lighting mattered next and 47% were concerned with the perception of safety.
"When it comes to consumers selecting a fueling station, driving satisfaction takes much more than having competitive gas prices," the report observed. "A clean, well-maintained location, good brand imaging and a problem-free experience are critical."
The number of lighting manufacturers specializing in solutions for petroleum marketers is actually quite limited, observes Jeff Hungarter, Cree Lighting's Director of Petroleum Solutions.  "Petroleum marketers and convenience stores present a complex and unique combination of overlapping indoor and outdoor consumer retail environments," Hungarter says. "Energy efficiency is important but creating a welcoming consumer experience is essential."
Hungarter calls the company's new CPY500™ Series of canopy luminaires a "category-buster that rings the bell on all three fronts" – performance, aesthetics and utility.
"Imagine an upscale fixture ranked at the top of the category in terms of efficiency, bathing the gas island in exceptionally uniform light – and yet enhancing visual comfort," he said. "It  blends almost invisibly into the canopy, yet it attracts the eye of drivers. It's really something to see."
Strickland said Cree Lighting's petroleum marketing portfolio includes comprehensive and flexible varieties of exterior and interior lighting to create a welcoming, well-lit, visually appealing environment from the road, including area and building lighting to crisply define your perimeter, spotlight your car wash or other features, and invite customers inside your store. 
Cree Lighting exterior LED lighting solutions provide targeted illumination where you want and full cutoff where you don't. This allows you to vividly illuminate specific spaces —including areas where customers and security cameras are—while also enabling you to turn off or reduce lighting in other areas. The results are lower energy costs, reduced light pollution, increased customer satisfaction and happier neighbors.
As diverse as Cree Lighting's offering is, Strickland listed several things they have in common – "they're all long-life, low-maintenance, and simple to spec, order and install." Both Strickland and Hungarter note that 2021 has been an active year for Cree Lighting's petroleum lighting team as retailers have come in search of upgrades to their brand image and facilities.
And as Pilot Flying J Energy Manager Brian Martin can tell you, when you upgrade your lighting, customers notice. After retrofitting 300 stores with Cree Lighting solutions, Martin said they've received nothing but compliments.
"We've had a lot of positive feedback from our professional drivers and other customers who come into our stores on a regular basis," Martin notes. "They notice right away – the stores just look more modern."
Martin said the warm, bright illumination in the revamped stores makes it easy for customers to find what they need while creating an atmosphere where they feel safe, comfortable and welcome. And in today's world, who doesn't want to feel safe, comfortable and welcome?