Lighting the Places That Keep the Lights On: Solutions for Utility Substations.
Lighting should be priority one in improving safety and security at our utility substations.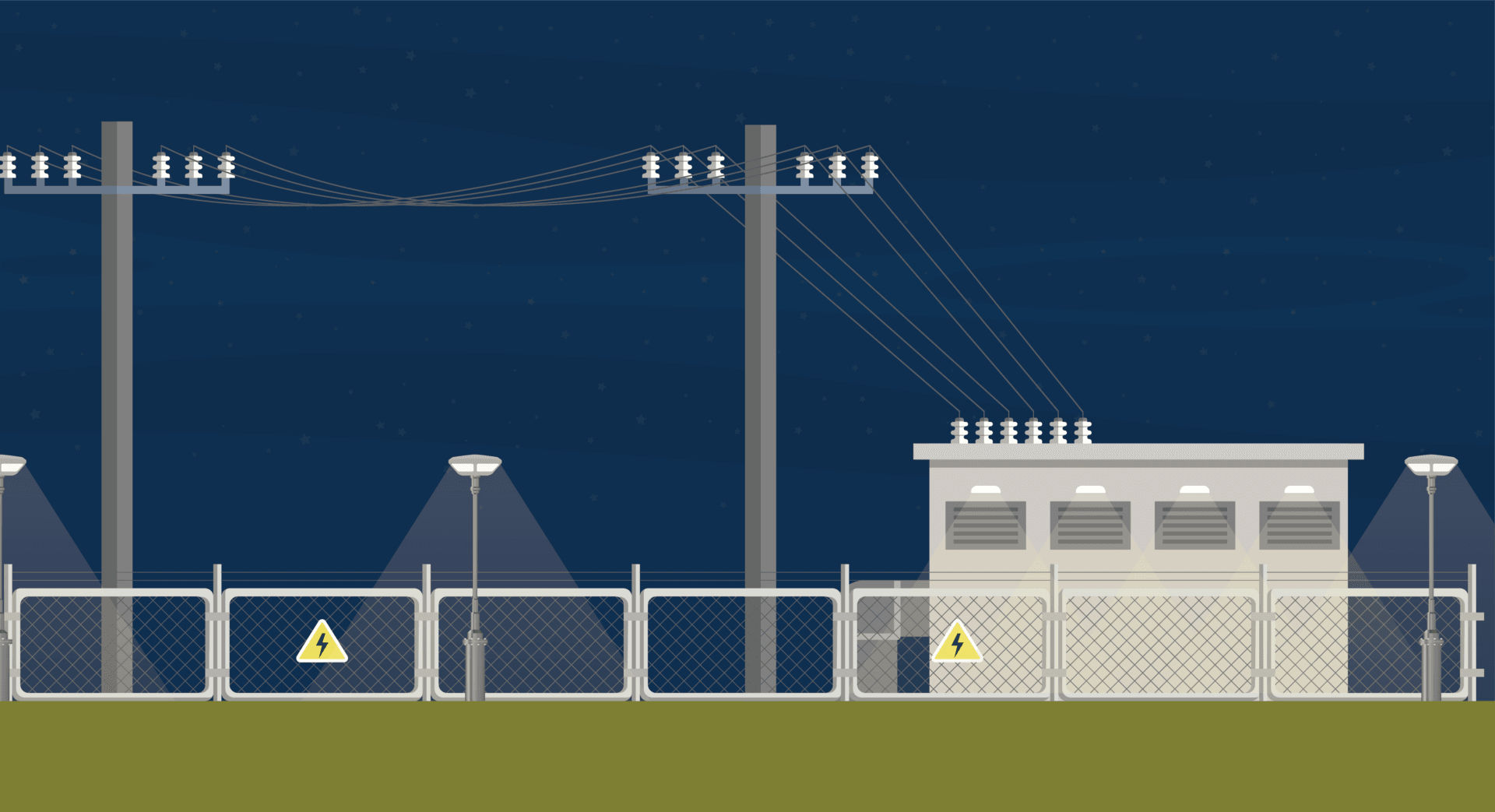 Published on: 3/4/2022
---
The Infrastructure Investment and Jobs Act (IIJA) signed into law late last year earmarks billions of dollars for upgrades to the national power grid, including strengthening the security, resilience and number of utility substations. You've no doubt seen many such substations – fenced-off parcels packed with transformers and bristling with electrical wires and insulators.  According to the DOE, there are more than 55,000 substations nationwide, owned by an interconnected network of more than 3,000 electrical providers. These substations perform a number of essential tasks, including stepping up voltage for long-distance transmission, and stepping it down for distribution to homes and businesses.  They also have circuit breakers to protect equipment, routers to direct power and capacitors to smooth out voltage spikes and dips.
The Push To Improve Substation Security and Safety
Virtually all substations are unstaffed, and many are in remote areas, so security is primarily focused on preventing trespass, vandalism and theft. However, a 2015 sniper attack on a substation in Metcalf, California demonstrated that they are also potential targets.
That attack led to new security recommendations from the North American Electric Reliability Corporation (NERC), a not-for-profit international regulatory authority whose mission is to reduce risk and ensure reliability of the North American power grid. The most important NERC recommendations were predictable: better perimeter fencing, CCTV with intrusion sensors and better security lighting. NERC isn't the only one pressuring utilities to upgrade substations. As a result of more, and more severe, weather events, aging electrical transmission infrastructures are failing more often. Blackouts, brownouts and other service failures – like the widespread power failures during a February 2021 polar cold front in Texas– have spurred regulators, consumer groups and industry analysts to call for more secure, resilient and redundant systems.
Good security lighting has proven valuable in deterring theft and vandalism at substations. While it isn't enough to foil a determined intruder, when combined with security fencing it helps create a meaningful deterrent. 
Even better: intelligent lighting linked to motion detectors and/or fence-mounted sensors that automatically alert authorities to a potential problem.  Such systems can also be set up to strobe in the presence of an intruder, pinpointing the intruder's location and alerting the intruder that his presence has been detected.
The exact type of lighting most appropriate for a specific substation depends on several factors, but NERC warns that any substations still lit by high-pressure sodium (HPS) or metal halide (MH) lamps are urgently overdue for an upgrade to LED lighting.
Expensive to install, short-lived and heavy on maintenance, HPS and MH lamps have long strike times and warm-up periods, making them poor candidates for motion-activated systems.  Their relatively short lifespans are further shortened by frequent on-off cycling.  And with a CRI of about 25, HPS lights make it virtually impossible to accurately discern colors on surveillance videos.
In contrast, the kind of LED luminaires available for a substation include:
high-intensity flood lighting for fenced perimeters
area lighting for parking lots and substation grounds inside the fence
wall packs for the sides of equipment sheds
flood lights to illuminate structures and equipment
Upgrading to bright, uniform LED lighting does more than deter bad actors. It also provides a safer environment for utility workers or other authorized personnel who visit the substation, and enables higher quality video capture. One NERC publication noted that for larger utilities with thousands of substations and tens of thousands of CCTV cameras, the higher-quality video imaging offered by LED lighting could save millions of dollars by allowing the use of less expensive cameras.
Solutions Made in America
When considering new LED lighting for a substation, it's also helpful to remember that the IIJA and other federal and state funding initiatives directing money toward utilities to update their electrical grid infrastructures require compliance with the Buy American Act. Cree Lighting is a GSA-approved vendor and select products for utility substations meet the Buy American Act requirements. Taken in combination, these products cover the range of lighting applications for the typical substation—and check all the right boxes for quality, durability and performance.