PoV: Perspectives from the Manufacturing Floor
Hear from real employees on what it's like to work for Cree Lighting.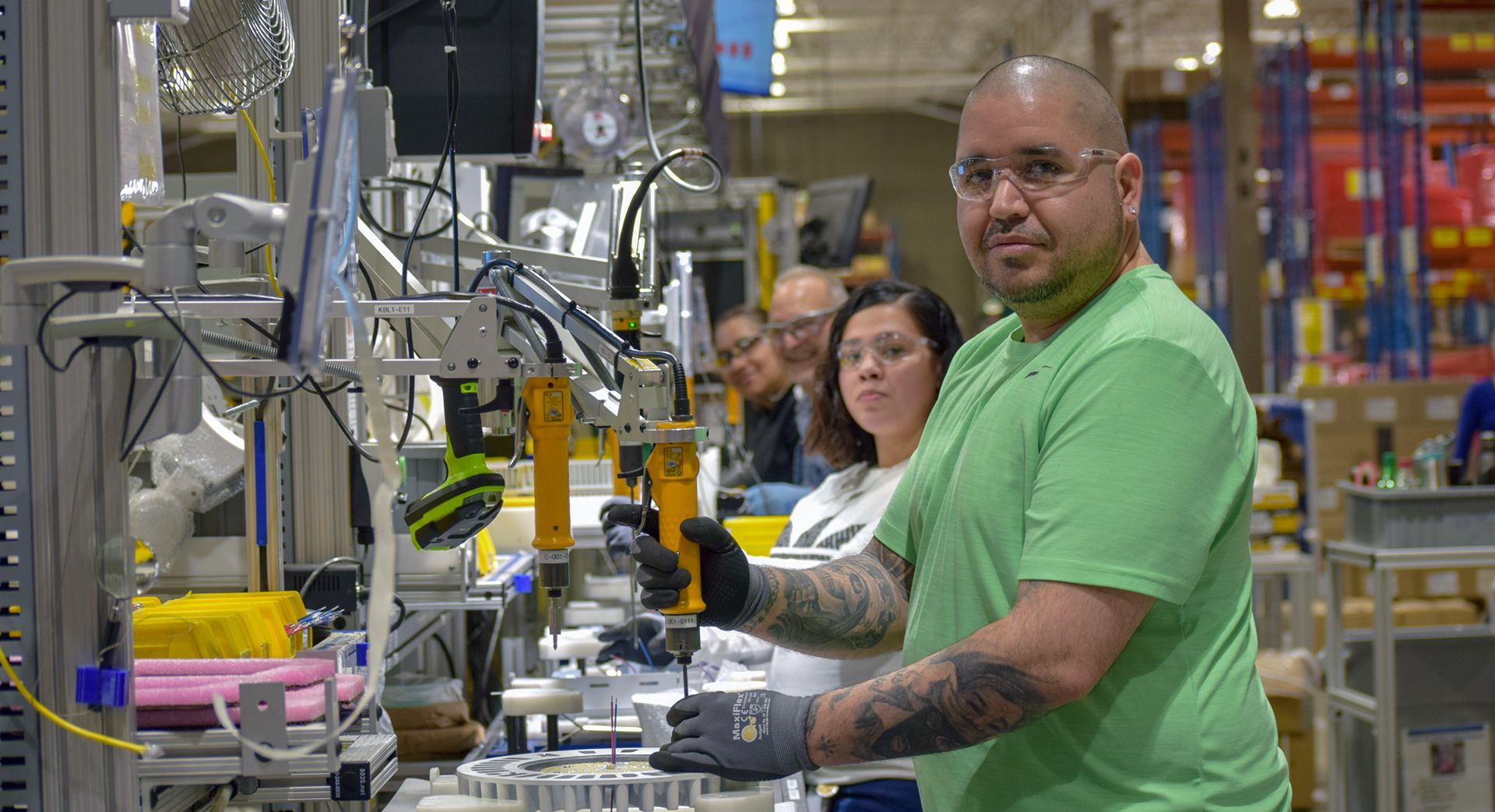 Published on: 10/15/2021
---
At our 650,000-sqft. manufacturing headquarters in Racine, Wisconsin, you'll find a highly skilled and hard-working team using the latest technology and techniques to design, test and build our industry-leading LED lighting products.
Working at Cree Lighting is all about achieving our great mission ‒ to enable and protect all the precious activities of our daily lives with safer, smarter, better paths forward. Our talented and close-knit teams understand how important our mission is and offer a truly supportive environment where all team members can contribute and grow their career at the same time.  
To show this, we asked a handful of our team members in manufacturing to tell us about their career and share their perspective on what it's like to work for Cree Lighting.
---
Preston Roberts
Value Stream Manager (Production) with us 9 years
In my role as a Value Stream Manager, I oversee all production activities across three shifts. My favorite part of the job is the people, the comradery and trust. We're a fun and dependable group, which makes coming to work easy. That's not to say that challenges don't pop up, because they do, but we've built a team here that likes to help each other out, which lessens the stress.
My career is proof of the support network. I recently earned my bachelor's degree in Business Manufacturing. I wasn't sure how it would go, but my manager and even the VPs above him really encouraged me the whole way. It was a tough four years going to night school while working full-time, but my team had faith in me and now I'm in management as a result. I also utilized our tuition assistance program, which helped make it all possible. I'm now focused on paying it forward. I have a few direct reports pursuing their bachelor's and it's very rewarding to help them achieve their goals in the same way.
---
Matt Corrigan
Manufacturing Manager with us 9 years
I started as an assembler on the floor and caught on quickly. I could tell right away that there was a lot of potential to move around and continually challenge myself. Once I became a supervisor, I got a view into the bigger picture, seeing all the production data and examining the interdepartmental impacts, and I really liked it. At the same time, Preston recognized my interest and pushed me to take it a step further. He encouraged me to pursue my bachelor's alongside him and we held each other accountable the whole way through, which made it go much faster than I expected. That's the sort of thing that really makes working here feel more like family.
Speaking of family, that's how my journey began. My mom has worked here for 20 years and is the one who first talked me into applying. She's in sales, which gives me an inside view into the customer and service side of things. I share this perspective with my team, and that's really the most rewarding part – connecting all the dots and helping others learn and grow at the same time.
---
Luis Ibanez
Production Supervisor with us 28 years
I started at Cree Lighting as a Line Support Technician, and like many others, I worked in several roles leading up to my current one. I really love what I do and dedicating myself to my team. The best part of my job is seeing us achieve our goals together as one team. It also helps that Cree Lighting is supportive of employees with things like on-the-job training and good work-life balance (new hires get PTO immediately), plus great pay and a pension, which is something you rarely see as a benefit these days.
The last year has been tough on everyone, whether at work or at home or both. We all faced the pandemic together, and looking back now, I am proud to say we all rose to the challenge and supported each other throughout all of it. Now that things are looking up again, I'm excited to see the direction we're moving in and to be a part of it.    
---
We're looking for passionate doers and problem-solvers who can help us transform blue sky thinking into solutions that drive real human progress. View our current job openings to brighten your career and apply here: