Street Smarts: Understanding Street Lighting Design Variables
Set your roadway project up for success with our street light design tips. Then, learn how Cree Lighting's street lighting options can help.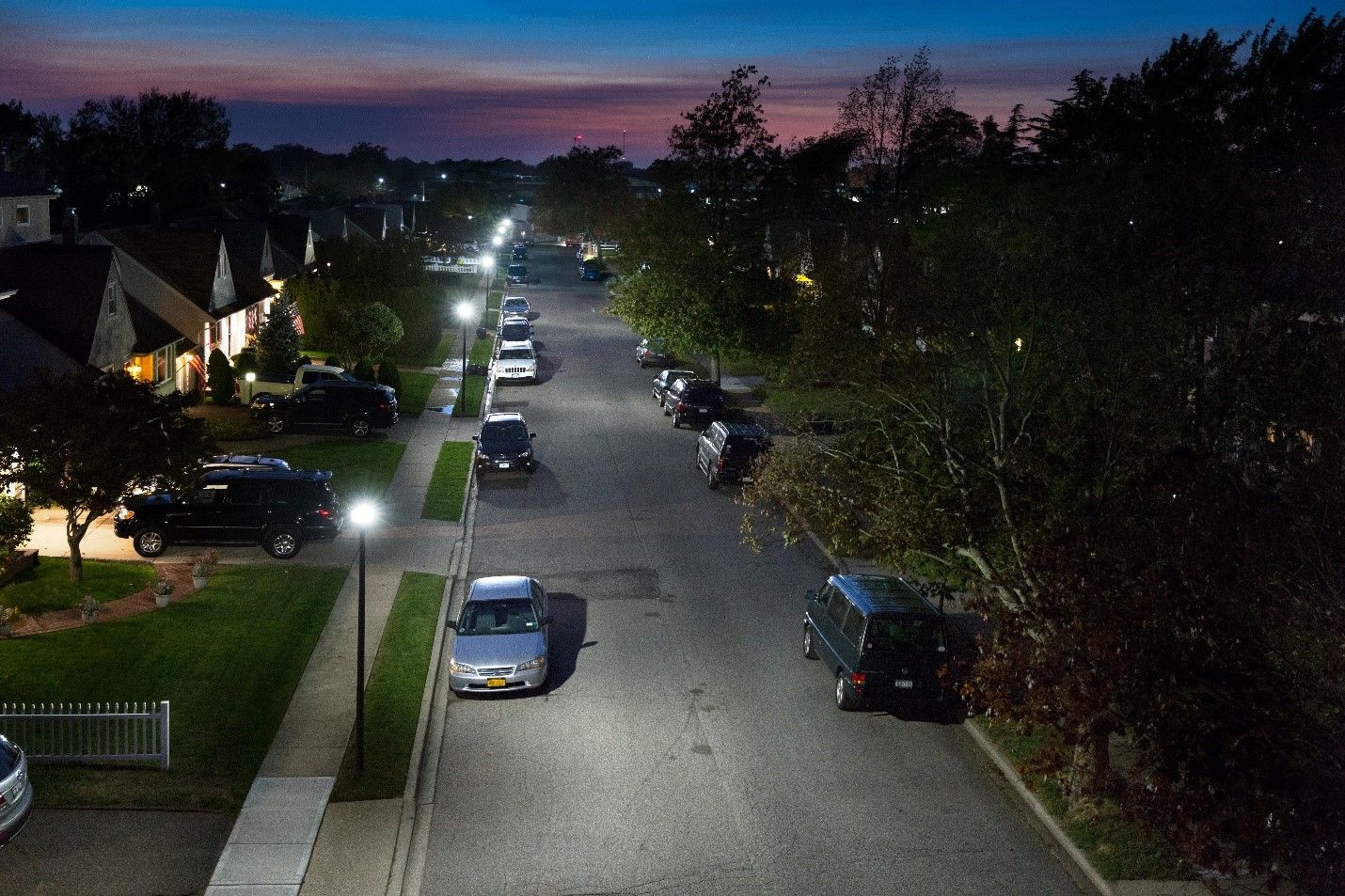 Published on: 3/19/2021
---
Standing guard along our roadways, street lights allow communities to be safe and active after dark.
Motorists can commute to and from work, pedestrians can walk dogs or enjoy urban nightlife, cyclists can enjoy their two-wheeled journeys, and more. Well-structured municipal and residential street lighting is key to ensuring motorists and pedestrians are safe. 
At Cree Lighting, we're dedicated to providing you efficient, powerful lighting solutions to keep your community at its best. Read below to learn more about what to keep in mind when planning your street lighting design.
Best Practices for Street Lighting Design
When it comes to the design of street lighting, some best practices are important to keep top of mind. The Illuminating Engineering Society's recommended practice for the design and maintenance of roadway lighting (IES RP-8-18) breaks down this important role into five goals for street lighting design:
Improve motorist visual quality
Provide quality light and increased contrast for seeing hazards
Illuminate conflict areas
Minimize environmental impacts of light at night
Employ lighting systems that are easily maintained and minimize energy use
Accomplishing these goals requires a luminaire that reduces glare, provides good color quality and contrast, has the appropriate spacing and height, offers options to direct light only where it's desired and is easily accessible for maintenance to reduce downtime. The lighting design process then incorporates these qualities with location-based factors to find the optimal solution.
Our street light portfolio, including the RSW® Series, XSP Series, Traveyo® Series and others, offers the quality and flexibility that, combined with the expertise of our team, can make these goals a reality.
Recognizing that street lighting is far from "one size fits all," let us shed light on the considerations our team evaluates in a street light project. Knowing these will help you set your project up for success.
Defining by Roadway Application, Pedestrian Traffic and Pavement Material
A simple place to begin understanding your lighting needs is to evaluate the roadway application —will the luminaires illuminate residential streets with traffic moving at 25 mph or less, collector roads at 30 to 55 mph, or major roads and highways at 55 mph or more? As a general rule of thumb, the faster the traffic on the road, the greater the lumens required from a light source. When it comes to CCTs, lower, warmer color temperatures are often preferred for residential areas. Luminaires with lower CCTs used to be less efficient, but LED technology has improved to the degree that is no longer the case.
Pedestrian traffic is another essential element. An example of high pedestrian traffic would be a downtown area with an abundance of evening foot traffic along its streets and crosswalks. A medium pedestrian traffic area would be an area like that around a library or a gym with pedestrians walking to or from the destination. Lastly, an area of low pedestrian traffic would be a rural road where the presence of pedestrians and cyclists is minimal. These levels will determine the value of horizontal and vertical light needed. Check out our application gallery's section on municipal lighting to see how we can serve your project.
To factor in how light reflects off of a surface, roadway material is yet another variable ranging from clean white concrete (R1) to fresh black asphalt (R4). To create the best value over time, our team typically plans for levels R2 and R3, worn asphalt and dirty concrete. Once you've considered the roadway application, pedestrian traffic, and roadway material, you're well on your way to understanding how to plan the ideal lighting design and choosing the right street lights for your cities and towns.
Identifying Factors Unique to Your Location
Another important question is whether your project is a lighting upgrade or a new development. If you're replacing existing lighting, factors like pole height and spacing may already be defined and may be boundaries that the design has to work within. Upgrading your street lighting fixtures to LED guarantees lower costs and higher efficiency, but it's still a good idea to map out the next steps.
New developments, on the other hand, are a wonderful opportunity to allow the lighting designer to use these values as tools to build the optimal solution. If you're putting fixed variables in place, make sure it's in a meaningful way.
As you dial in on what other specific needs and characteristics make your project unique, think about environmental factors that will either impact your lighting or be impacted by it, such as local wildlife and the community.
Lower color temperatures and shields are options to increase visual comfort and limit disruption. We're pleased to share that the RSW® and Traveyo® Series have joined our THE EDGE®, LEDway® and 304 Series outdoor portfolios in offering a turtle light.
At certain CCTs, the RSW®, XSP and Traveyo® Series are all "Dark Sky Approved" by the International Dark Sky Association, certifying that the luminaires "minimize glare while reducing light trespass and skyglow." This keeps light where it's needed to enhance safety and visibility while reducing light spill that can affect wildlife or obscure night sky viewing.
Meet Our Municipal & Residential Street Lighting Collection
Our roadway portfolio features the RSW®, XSP and Traveyo® Series, all with toolless access and a range of CCTs and lumen levels, and each with unique advantages to offer your project.
The RSW® Series harnesses our WaveMax® Technology to maximize uniformity, comfort and appeal. The innovative optical waveguide platform delivers reduced glare, uniform light distribution and high color quality to create a visually comfortable and aesthetically pleasing environment. It offers 80 CRI for applications for which color quality is a high priority. While its performance makes it a leading solution for any roadway application, these characteristics make it particularly appealing for residential settings.
The Traveyo® Series is our latest roadway lighting family that offers future-ready engineering at the most accessible price point. It features a standard 7-pin NEMA® photocell receptacle that is pre-wired for dimming and network controls and Digital Addressable Lighting Interface (DALI) options for all configurations in the series. DALI allows luminaires to be controlled individually or by groups and enables two-way communication between the luminaire and control node so that users can easily be aware of each luminaire's operating status.
To ensure communities and wildlife can coexist in a positive way, both the RSW® and Traveyo® Series now offer turtle-friendly (TRL) amber LEDs and lumen packages consistent with the guidelines of the Florida Fish and Wildlife Conservation Commission (FWC), charged with protecting the majority of the U.S. sea turtle population. Whereas some lighting discourages adult sea turtles from coming ashore to lay eggs at night and confuses hatchlings leaving the nest, Cree Lighting's amber light technology uses true monochromatic amber LEDs to produce wavelengths that are less visible to turtles and other wildlife.  
The XSP Series has the distinction of being our most well-known roadway luminaire with over one million luminaires installed around the world, and counting. In addition to a reputation of quality and reliability, it shares the lumen level versatility of the RSW Series, offering both a Q option and X option. Choosing the Q option means that the lumen output is adjustable in the field if need be; choosing the X option means that the lumen output is locked down while in production in the factory to levels required for optimized lighting design.
Ready to Get Started?
As you prepare to embark on your roadway project with these design variables in mind, we leave you with three tips:
Make sure you have everyone at the table.
Representatives from the municipal government, utility company and local community are all helpful to have at the table from the beginning to ensure the project can unfold smoothly and meet the needs of all involved. As you put together your specifications, we also encourage you to seek input from lighting manufacturers for valuable insight on the options available.
Avoid fixed variables when possible.
Limiting certain values like pole spacing and height unnecessarily limits the ability of the lighting designer to create the best value. If you put fixed values in place, make sure it's in a meaningful way.
Recognize that the lowest price does not mean the best service to constituents.
Using municipal resources wisely has more factors than price. To ensure you have a solution that will serve your community well for years to come, be mindful of quality and reliability. Our luminaires undergo a rigorous 6-point testing process in our state-of-the-art reliability lab in Racine, Wisconsin, ensuring our products perform at the highest levels and are durable enough to stand the test of time and endure tough conditions.