Sun and Sky: Two Welcome Additions to Any Windowless Space
Innovative new lighting promotes the WELL Standard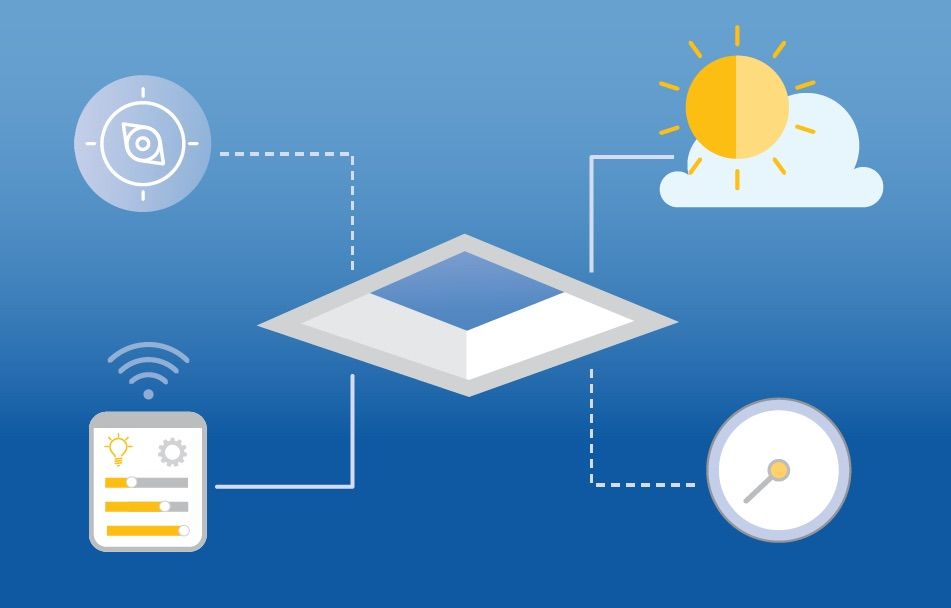 Published on: 6/6/2019
---
After evolving for millions of years in natural outdoor environments, humans now spend 90% of their time indoors. This is a dramatic departure from the conditions our bodies have adapted to. When indoor spaces don't provide the environmental conditions and experiences our bodies require, our physical, emotional and mental health can pay a high price. Our companies will also pay the price, in the form of diminished productivity and cognition, higher absenteeism and turnover, more illness and lower esprit de corps.
These costs are now measurable, thanks to a new metric called Environmental and Social Governance, or ESG. This metric addresses the three areas of corporate sustainability - profits, people and the environment. With more than 80% of companies in the S&P 500 Index reporting on corporate sustainability and investors taking a keen look at ESG metrics, health and wellness has moved from the "soft" benefits category to the hard-nosed world of ROI and revenue impacts.
One of the most effective ways for a company to show they're paying attention to ESG is to adopt standards for a healthy workplace. It's no coincidence that such a standard is gaining traction around the world: the WELL Building Standard. The WELL Standard is intended to address all the key areas of the built environment that impact health and wellness. For a building to receive WELL certification, it must receive a passing score in key "concept" areas such as Air, Water, Light, etc. Each concept includes detailed requirements for both mandatory "features" called Preconditions, and optional features known as Optimizations.
The Light concept of the WELL Standard promotes exposure to natural light and the creation of lighting environments that are optimal for visual, mental and biological health. It also encourages the adoption of lighting strategies to minimize disruption to the body's circadian system, enhance productivity and provide appropriate visual acuity. 
Most companies don't need a new standard to understand the appeal of an office with a view. A recent survey published in the Harvard Business Review1 found "access to natural light" and "views of the outdoors" are the most highly desired attributes of the workplace environment.  What to do, then, about all those interior building spaces where access to any natural light is impossible or highly impractical? 
To start, advanced lighting controls such as Cree's SmartCast® Technology can help by shifting the color temperature of tunable white LEDs to track with natural daylight across the day. And companies can adopt rotation schedules allowing every employee to spend some time each day in a naturally lit environment. But what if lighting designers could transform those windowless spaces by "piping in" the sensory experience of being outdoors?
Cree Lighting first asked that question several years ago. Our answer is the Cadiant™ Dynamic Skylight – an industry first that's nothing less than a paradigm-shifter ushering in a new generation of human-centric lighting. The Cadiant™ Dynamic Skylight realistically delivers both the architectural impact and the dynamic, sensory experience of a true skylight.  It does this by using SmartCast® Technology advanced lighting controls and dimensional LED panels to simulate the depth of field, shifting sun positions, clouds and natural hues of an actual sky. The Cadiant™ Dynamic Skylight can even mirror the natural arc of the sun as it crosses the sky from east to west.
The result is nothing less than a remarkably unique lighting experience that captivates and energizes. Simply put, the Cadiant™ Dynamic Skylight can give people in any interior space a much-desired connection to the outdoors that is not satisfied by any other artificial lighting source today.  What's more, it can go a long way to help satisfy the lighting requirements of the WELL Building Standard.
NEED MORE INFORMATION? Download this WELL Standard FAQs pamphlet to learn more about the wellness benefits of having a simulated natural light experience using the Cadiant™ Dynamic Skylight.
[1] A survey by the HR advisory firm Future Workplace called "The Employee Experience" conducted a research poll of 1,614 North American employees and found that access to natural light and views of the outdoors are the number one attribute of the workplace environment over cafeterias, fitness centers and premium perks including on-site childcare (only 4-8% of FORTUNE 100 companies offer on-site child care).