7 Reasons LED Lighting is the Right Choice for Automotive Dealerships
In a competitive industry, the right lighting can provide an edge indoors and out.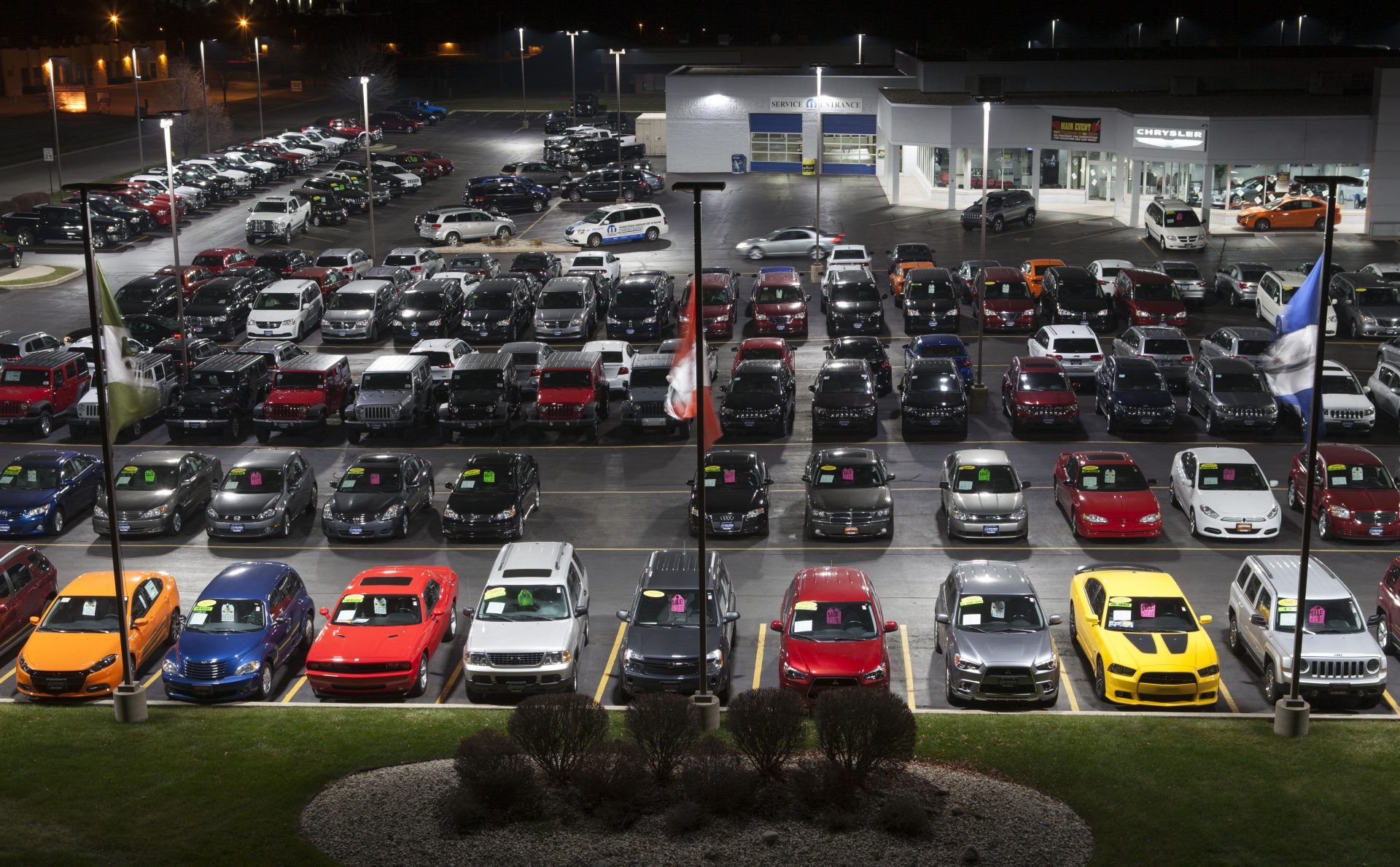 Published on: 7/8/2022
---
Nearly 17 million vehicles were sold in the U.S. this past year. How many of those were from your dealership? Out of that number, how many of those will remain loyal service customers? In the competitive industry of auto sales, every detail counts in claiming a larger share of the market—your lighting included. While you might not think often of your car dealership lighting, it's an important element of your display and marketing. Choose LED lighting for your car dealership parking lot lighting and showrooms.
Here are the leading ways that the right LED lighting can help you differentiate your dealership and win more business:
1) Power Up Curbside Appeal
The customer's experience with your dealership may start from the road. Make sure the visual first impression is a striking one.
The soft white light of LED luminaires such as Cree Lighting's OSQ Series High Output and THE EDGE® High Output marks a noticeable difference from the orange and yellow tones of high-pressure sodium and metal-halide lamps that may be illuminating competing dealerships.
The precise optical control of these luminaires also puts an end to light spill so that the light is bringing maximum benefit to your inventory with minimum impact to surrounding homes, businesses and roadways.
2) Let Colors Shine True—Even at Night
Color preferences are a very personal part of the car buying process. Manufacturers invest in producing countless color shades so that one will be the right one for a customer. And yet, if a customer visiting your lot after sundown can't see the difference between Lunar Silver Metallic and Modern Steel Metallic or Oxford White and Star White, they can't value the options available, and might not see themselves in that vehicle.
With the 5000K and 90+ CRI light that Cree Lighting fixtures offer, you can highlight your inventory in daylight color quality – its best light for maximum impact - on the lot and in the showroom.
What is CRI in lighting?
CRI stands for color rendering index. CRI is measured between 0 and 100, where at zero all colors look the same. A high CRI like 100 shows the true colors of an object like the vehicles in your showroom. Selecting high CRI lighting for auto dealerships is vital to being able to see those color differences just like you can on a sunny day.
How is CRI measured?
CRI is measured on a score from 1 to 100, with 100 showing the true colors of an object. 90 and above CRI is considered to be excellent lighting, and Cree Lighting's fixtures offer powerful 90+ scores. Our high CRI LED lighting is perfect for all your car dealership parking lot lighting and showroom needs. The ideal lighting will show the true colors of a car, preventing customers from walking away from their desired car just because the colors don't look right under low lighting.
What are the benefits for auto dealerships?
Our high CRI LED lighting will provide the quality lighting you're looking for. No matter how late it is or if there are cloudy skies, your customers will be able to get a great visual for every vehicle on your lot. Commercial-quality to make every car shine, this high CRI lighting for auto dealerships will improve the professional feel of your business.
3) Enhance Customer Amenities
Dealerships across the country are leveraging customer amenities to get an edge over their competitors. What's one way you can enhance how your customers feel? You guessed it—it's lighting.
At a fraction of the cost of installing a skylight, the CadiantTM Dynamic Lighting Experience brings the outdoors in by creating the sensation of natural sunlight that follows the rhythm of the day. Make it a sunny day every day, anywhere in your building from the sales floor to the service waiting area. With evidence increasingly suggesting this type of lighting can boost the overall mood and productivity of customers and staff, this solution positions you at the forefront of providing the ultimate human experience.
Cree Lighting's StylusTM Linear Series also has what it takes to aesthetically elevate areas into places customers want to be. Its sleek lines deliver a clean, modern feel, and its versatility gives you the ability to choose between surface or wall mount, suspended with direct/indirect lighting, or slot-installed for an unbroken ceiling plane.
4) Accelerate Productivity in Service Areas
Your dealership's lighting behind the scenes is just an important in remaining competitive. Consider how quality light can enable your service team to perform their tasks more efficiently, both increasing productivity and boosting morale.
The LSQ Square Series and the KBL Series are ready to help get the job done. Each has multiple options for lumen output, allowing them to be flexible to the height of your space.
5) Take the Wheel with Lighting Controls
Opt to pair your lighting solution with lighting controls to effortlessly manage which fixtures are illuminated when, from your smartphone, tablet or computer.
Whatever your reason—preference, need or city ordinance—you're instantly able to dim or brighten and turn on or turn off your lighting, as well as create a schedule for it all to happen automatically. Lighting controls can even "harvest daylight", where bright sun means you may not need all your fixtures running at full brightness, making it possible to significantly enhance energy savings. You can save energy without sacrificing the benefits of high CRI LED lighting at your automotive dealership.
With Synapse® SimplySNAP controls, gone are the days of lighting control confusion, frustration and headaches, thanks to its simple language and intuitive operation.
6) Free Up Time and Money from Maintenance
In our conversations with auto dealerships, we've heard how much of a hassle and an expense maintaining legacy lighting systems can be. If you're in the costly rut of replacing all your metal-halide bulbs each year, imagine what it would be like to have lighting that can shine bright for 10 to 15 years.
Cree Lighting's low maintenance LED luminaires are rated for 10 years—10 years of putting the time and money it saves you into other parts of your dealership. Our reliable high CRI lighting for auto dealerships provides the quality and resilience you deserve.
7) Tap into Savings with Energy Efficiency
Lastly, the hallmark of LED lighting—energy efficiency. After an upgrade from legacy to LED lighting, you'll quickly find your car dealership lighting using less power than before and reaping a quick return on your investment.
For more information, explore our Auto Dealership page to read case studies and find our Automotive Lighting Application Guide, or contact us at 262-886-1900 or info@creelighting.com.