An Easy Guide to Choosing LED Street Lights
From driveway to highway, let's navigate the options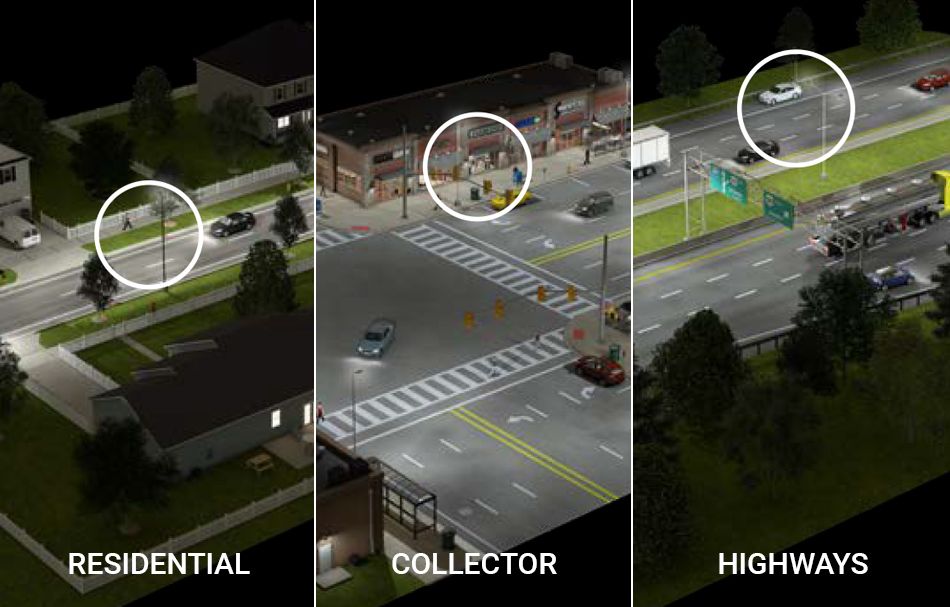 Published on: 2/7/2019
---
From driveway to highway, Cree Lighting delivers street LED lighting solutions that meet the needs of every application. Our portfolio was designed around visual comfort, durability, and performance to enhance the lighting experience of all who encounter them. Cree Lighting wrote the first chapter in LED street lighting with our first generation of street lights over a decade ago, and we continue to develop the story of where better light can take you today.
Before we look at all the Cree Lighting options, it's important to review the generally accepted application goals of street lighting. These usually include:
Offer comfortable light levels that allow drivers to see accurately and quickly identify objects on the roadway and within the vicinity
Supplement headlights by helping drivers see details better, understand where they are located, and enable them to react to changing environmental and driving conditions
Help pedestrians identify designated walkways and see nearby vehicles, other pedestrians, and objects in their vicinity
Help improve traffic safety and flow of movement, regardless of weather condition
Minimize shadows while reducing both direct and reflected glare from the ground or other surfaces
Minimize light trespass and pollution to reduce negative environmental impacts
With these goals in mind, well designed street lighting can help reduce nighttime accidents, improve flow of traffic, promote safety and security after dark, minimize environmental impacts, help cities and businesses look better at night, and promote a general sense of pride and wellbeing among citizens.
Designing for street and roadway applications takes into consideration a variety of factors such as visibility, aesthetics, safety, environmental impacts, "smart city" capabilities, and of course, cost.  While the full design and specification process can be complex with many factors to consider, it generally requires the determination of these items:
Roadway Classification – What type of thoroughfare is it? This could be anything from a bicycle path to a major freeway.
Area Classification – What type of area is the thoroughfare surrounded by? This could be residential to commercial.
Pavement Luminance – What are the reflectance characteristics of the roadway or pathway surface materials? This can impact the quality and uniformity of the light.
Distribution Classification – How should the light by distributed from the source? This is very application specific and usually involves vertical and lateral light distribution as well as control and cutoff above the maximum candlepower.  
Lighting System Geometries – This involves the relative mounting height of the light source and the desired uniformity of the light distribution.
Pole Spacing – How far apart should the light sources be placed? This is often influenced by the location of existing utility poles and masts, property lines, and/or the geometry of the thoroughfare being illuminated. In general, it is more cost-effective to space light sources further apart.
No matter your roadway application, Cree Lighting has a street lighting family to meet your needs. Here's a handy reference table for selecting Cree Lighting LED street lights, outlining the options for each of our families, by the top three most common street lighting applications: