King of Wings: How Every State Takes Its Chicken Wings
For many Americans, the Super Bowl is the unofficial national holiday of the best game-day snack, chicken wings. See how your state orders them here!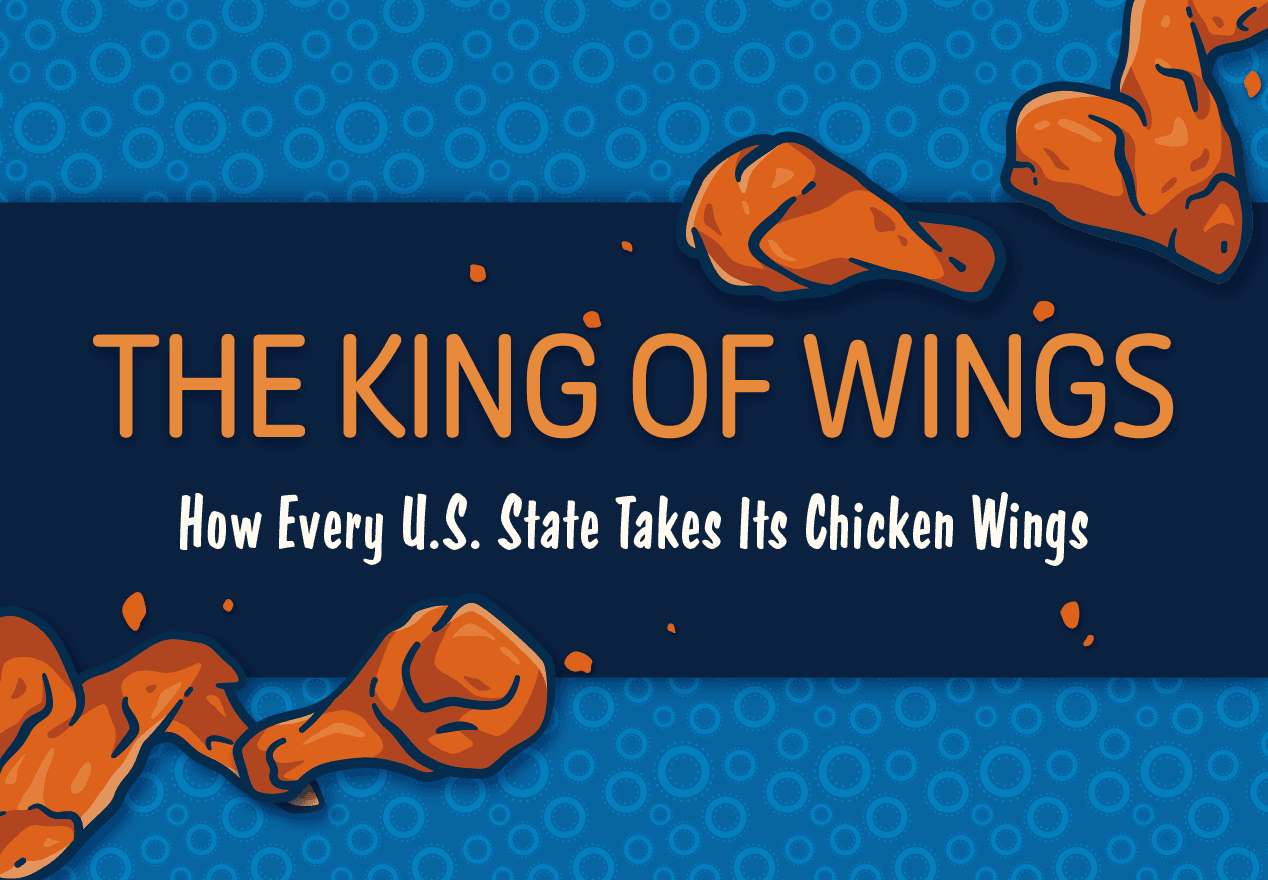 Published on: 1/24/2023
---
It's that time of year again, when the Super Bowl is upon us and the one thing on everyone's mind is… chicken wings! For many Americans, Super Bowl Sunday is the unofficial national holiday of everyone's favorite game-day appetizer, and we can't say we blame them. Chicken wings pack a ton of flavor into a tiny package to create the ultimate Super Bowl snack that's sure to please any crowd. At Cree Lighting, we were curious to learn more about chicken wing preferences across every state, and America did not disappoint. If you need some fresh wing ideas that will have everyone cheering for more, or are just curious about your hometown's favorite wing combinations, read on.
Key Insights
When it comes to wings, Americans prefer to be hands-on: 63% of Americans prefer bone-in wings to their boneless counterparts.
Flats vs. Drums: In the age-old battle for the best part of the wing, 42% of Americans want drumsticks, 32% opt for flat wings (wingettes), and 26% have no preference at all.
The three most popular chicken wing sauces are Buffalo (29%), Honey BBQ (17%), and Garlic Parmesan (13%).
Of Americans that plan on watching the Super Bowl, 75% will be eating chicken wings while watching the big game.
How Every State Orders Its Chicken Wings
Based on the survey results, we found 11 distinct wing orders (pictured above) when accounting for styles, sauces, and dressings. Of those wing orders, the most popular combo was #10; a boneless wing with buffalo sauce and a cup of ranch on the side. We applaud wing #10 for its seamless combination of classic flavors and efficiency. No bones and no mess means you can enjoy these wings confidently on a date without worrying about getting chicken stuck in your teeth or wing sauce on your partner's outfit. While many chicken wing traditionalists will argue that boneless wings are merely glorified chicken nuggets, we would like to counter that there is simply a wing that's right for any occasion.
Many other popular wing orders across the country consist of various arrangements of chicken, buffalo sauce, and ranch on the side, but there are a few states in the U.S. whose wing orders are one of a kind. Georgia's go-to wing order consists of all flats (wingettes), lemon pepper, and ranch on the side. Thanks to hip-hop culture and TV shows like Atlanta, Georgia has become the chicken wing capital of the South, with travelers coming from all over the country for a taste of the fabled "lemon pepper wet".
North Carolinians believe that a good hot sauce is enough to achieve chicken wing perfection, as their preferred wing order consists of all drums, buffalo sauce, and no dressing on the side. It seems as though North Carolinians have a higher tolerance for spicy food. While your average chicken wing aficionado might prefer to drown out the spicy buffalo flavor with a cool ranch dipping sauce, the wing enthusiasts in the Tarheel State don't mind sweating a little while they eat.
Wing fanatics in Washington state take their wings like no other state in the U.S. If you ask your average Washingtonian what the ideal order of wings looks like, it would be nothing but flats in buffalo sauce with a side of blue cheese dressing. The Emerald State is also the only place in the Pacific Northwest that prefers blue cheese over ranch dressing. Blue cheese detractors may say that Washington's wing preferences stink, but we would say they're just a little more cultured.
Wings and Things: How Americans Eat Their Chicken Wings
One thing we've learned in our years of experience with chicken wings is that there are many ways to approach eating them. Americans have many preferences when it comes to the act of deconstructing their chicken wings. For example, most Americans prefer to be hands-on with their wings and will go for classic bone-in wings over boneless ones any time, while only 12% of Americans use a fork and knife to avoid making a mess. 
You might wonder why the 12% of Americans who prefer to use utensils while eating chicken wings refuse to switch to boneless, but it's not that simple. More than half of the U.S. population believes boneless wings are just a fancier version of chicken nuggets. Americans who use forks to chow down on chicken wings face ridicule at every turn, and finally making the switch to boneless wings might earn them a spot at the kid's table next Super Bowl Sunday. If you're one of the 12% who takes the fine-dining approach to wingin' it, we salute you.
Whether it's the sauces, dressings, or the chicken itself, wings will always be a polarizing part of the culinary world. In the age-old battle for the best part of the wing, Americans have spoken and declared drumsticks the winner. Overall, 42% of Americans want drumsticks, 32% opt for flat wings, and 26% have no preference at all. Proponents of the flats might stand a fighting chance if they start making their case to the 26% who claim to have no preference. Otherwise, drums remain the reigning champs… for now.
If any restaurant owners are reading this, you could save a lot of money on vegetables next football season. While chicken wings are typically served with a side of carrots and celery, many Americans say they could do without the veggies all together. In fact, 35% of Americans in our survey wish that restaurants would stop wasting their precious celery and carrots on them and serve the wings as is.
What is the Ultimate Super Bowl Snack?
When it comes to finding out which game-day snack takes home the gold, there is no contest. Chicken wings come out on top each time, as 75% of everyone watching the Super Bowl this year say that they are definitely putting in an order for wings. While wings win in a landslide, we would like to give honorable mentions to nachos and burger sliders, who take home silver and bronze medals, respectively.
Closing Thoughts
While Americans have many differing opinions on how chicken wings should be enjoyed, the one thing that we can all agree on this Super Bowl Sunday is that they are a must for any party platter. So, whether you're a traditionalist who sticks to the classic buffalo wing or a culinary adventurer who prefers flavors like lemon pepper or hot honey, one thing is for sure, chicken wings are the ultimate crowd-pleaser, and there's a flavor for everyone.
No matter where you're headed to watch the big game this year (and consume your body weight in chicken wings), Cree Lighting has the lighting solutions, from the restaurant to the roadway, that help make your game day experience one to remember.
Methodology
Over the course of two weeks in December 2022, we surveyed a total of 3,146 Americans to find out how they enjoy their chicken wings. By asking questions about their style, sauce, and dressing preferences, we were able to thoroughly examine one of America's favorite snack foods. Using this survey data, we discovered how wing preferences differ regionally across the country. Finally, we asked respondents to rank eight popular game-day snack foods and used a weighted rating system to settle once and for all what the ultimate Super Bowl snack is.
We did not analyze results in the following states due to low survey population figures: Alaska, Hawaii, Montana, North Dakota, South Dakota, Vermont, and Wyoming.