The Power of Simple: Intelligent LED Lighting for Warehouse Spaces
LED lighting can help ensure safer, more productive work areas for employees.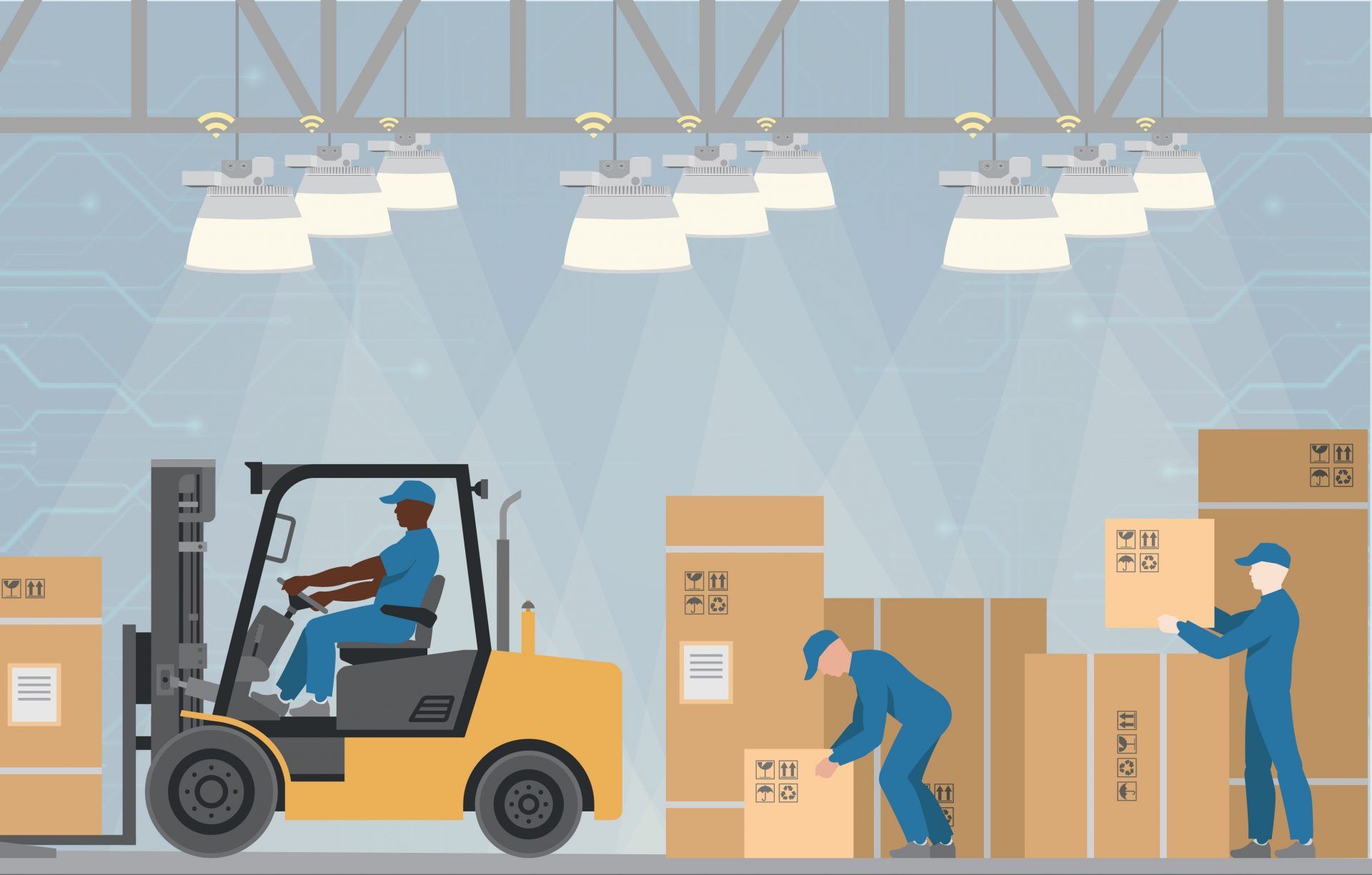 Published on: 2/3/2021
---
Quarter by quarter throughout 2020, the U.S. Census Bureau Department of Commerce has reported e-commerce sales increases as high as 44.5% over the same quarter in 2019. Consumers have become accustomed to the simplicity of being a few clicks away from having what they want delivered right to their doorstep, possibly even on the same day of their order. However, anyone who works in or with warehouses, distribution centers and manufacturing facilities knows it's far from that simple behind the scenes. It's a complex system, and currently one strained by surging demand and the challenges COVID-19 is exacting on the supply chain.
Helping to ensure a safer, more productive environment for employees
A safe and productive work floor begins at the ceiling. The proper levels of low-glare illuminance enable the visual acuity needed for employees to safely move about and operate machinery. This goes hand in hand with the visual comfort and perception that boosts employee morale, supports focused work and drives productivity.
"Anything we can do to make our pickers' and packers' jobs easier—that's obviously the route we want to go," says ULINE Facility Manager Emil Yanos. "The crisper, cleaner light that we get from the lighting system here is a huge part of removing any roadblocks for them."
"People feel a lot safer just coming in and parking at the facility," shared Thermo Fisher Scientific Maintenance Manager Steve Haney. "I've had truck drivers comment on how much easier it is to be able to back their trailers into the shipping docks."
Balancing competing needs in a multi-use space
As the demand for distribution and warehouse space climbs, many facilities are integrating multiple task zones into the same space—from assembly lines to computer workstations. The challenge here is that different tasks require different light levels, and lighting systems need to have the flexibility to accommodate that.
In this intelligent lighting webinar, Cree Lighting's Industrial Lighting Product Portfolio Manager Ryan Loggins explains that in multi-use environments, some choose to "over-light the facility because you have to design for the worst case." However, that can create additional issues.
Rob Padgett, Staff Systems Engineer for Synapse Wireless, shared an example of a facility with technicians on manufacturing lines and project managers at computer workstations under the same lighting set at 100% brightness. This light level was ideal for the manufacturing lines, but it made it difficult to see computer screens at the workstations.
Switching to Cree Lighting luminaires with Synapse® SimplySNAP controls enabled them to implement task tuning—where groups of luminaires are set up as separate zones with different light levels. The luminaires over the manufacturing lines could remain at 100% while those over the computer workstations were dimmed to 50%.
Managing a busy facility—or multiple facilities
Busy facilities can't afford to miss a beat with downtime for installing and maintaining lighting systems. For that reason, we've invested time in developing and testing Cree Lighting luminaires enabled with Synapse® SimplySNAP wireless controls so that they're ready to use right out of the box and controllable through a simple interface that proactively notifies systems managers of any potential problems detected.
"We're fanatical about user experience," says Padgett of the clean, simple Synapse® SimplySNAP user interface that has been extensively prototyped and tested with customers.
Whether you're dealing with a single site of 300 luminaires, a large site with 3,000, or multiple sites totaling 30,000 or more, it can all be pulled into the same intuitive interface.
To make facility management even easier, automated dimming, motion sensing and daylight sensing can be set up by zones or luminaires all from a tablet, smartphone or other device. The system can essentially run itself indoors and out at one or more locations—and at the same time, it can be adjusted at the tap of a finger if something comes up outside of the daily routine.
Being ready to adapt with an ever-changing world
You've prepared for safety and productivity in the spaces you have today in the way that you're using them now. But, if the past year has taught us anything, it's that things change, and we all need to be ready to pivot. Cree Lighting luminaires with Synapse® SimplySNAP have you covered.
If your lighting needs within your space change or shift—simply adjust your settings from anywhere with the SimplySNAP interface.
If your facility expands to additional sites, simply scale up your intelligent lighting system with the same technology and interface.
If your municipal or state lighting codes change, simply change your automated dimming and/or daylighting accordingly.
If you decide to integrate your lighting with your building management system, it's already ready to go.
That's the power of simple.