CRI: Why Light's "Octane Rating" Matters At The Pump – And The Cash Register
Petroleum marketers can gain an advantage with high-CRI lighting everywhere from the snack aisle to the checkout counter, starting with the all-important fuel island.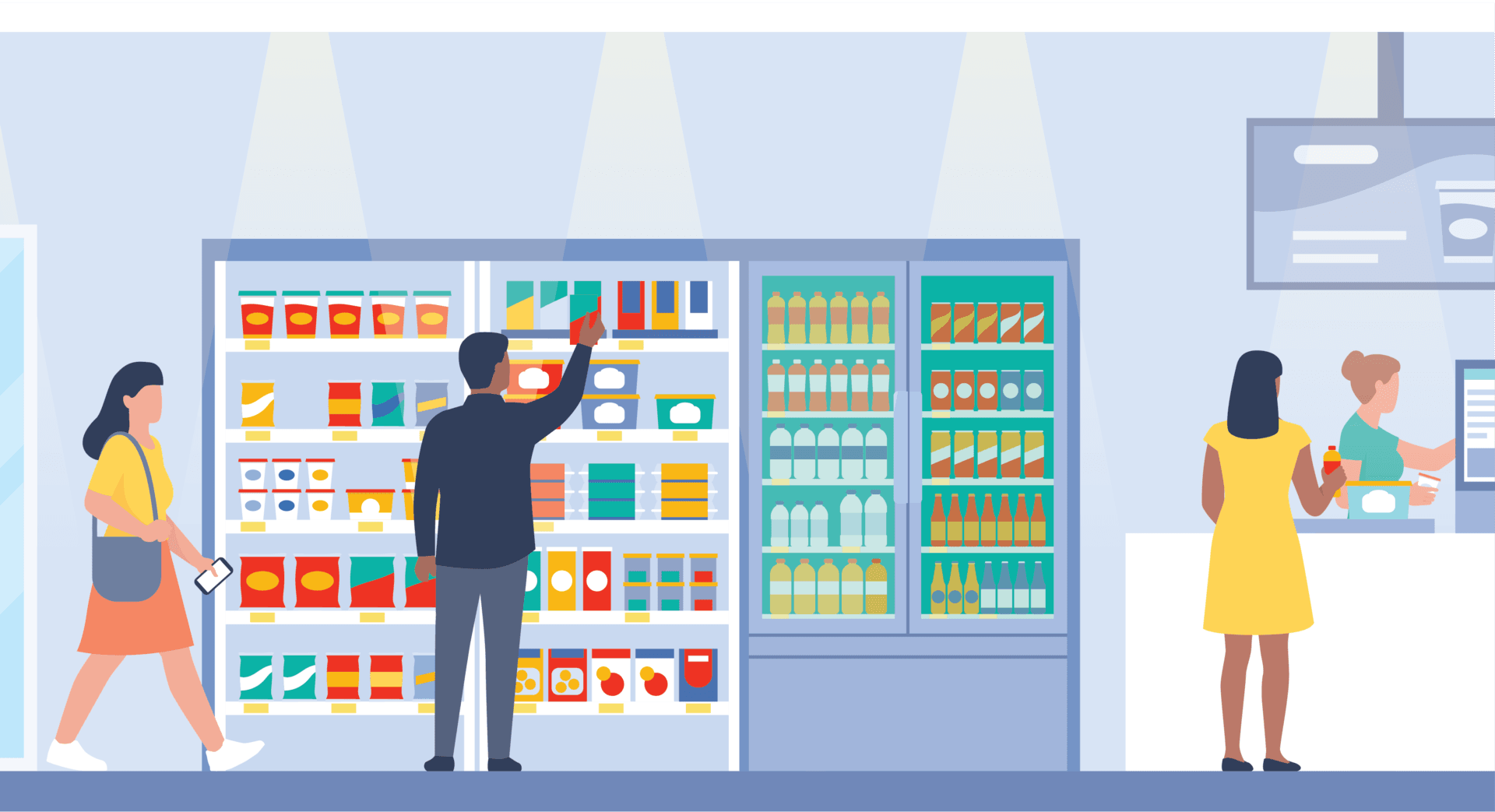 Published on: 10/26/2022
---
C-Stores: America's Big Business of Small Business
Roughly 150,000 retail convenience stores in the United States comprise about a third of all retail outlets. That makes them the nation's largest single category of retailers, yet more than 60% of convenience stores are still one-location "mom and pop" shops owned by sole proprietors. It's an extremely competitive business, and many of these independent shops are neck-to-neck with the leading national chains in their pace of innovation.
While the category is large and competitive, it's anything but vanilla: there's an impressive variety of distinctive brands among the category leaders. However different in brand and theme, the highest-rated chains and leading independent operators have begun to strategically apply high-CRI LED lighting as an integral part of the retail sales environment that more often includes fresh and freshly prepared foods. According to CSP Magazine, the millennial preference for ready-to-eat foods and fewer trips to the grocery store has driven the expansion of food offerings at the convenience store. The pandemic only added momentum to this trend, with some chains now offering full dinner menus, curbside pickup, and delivery via DoorDash and Grubhub.
High-CRI Lighting: A Petroleum Marketer's Best Sales Person
If you've been in a leading-brand convenience store lately, you've probably seen it for yourself: the boxes, wrappers and shiny knickknacks in the display racks surrounding the checkout counter "pop" at you in vibrant colors almost like they're on a television screen. That's high-CRI lighting at work, and c-stores are using it to enhance their brand, boost their revenues and encourage impulse purchases.
In retail, high-CRI lighting is considered any lighting with a Color Rendering Index (CRI) of 90 or higher, meaning the light source offers a close match to how those colors would appear in natural daylight (CRI = 100). In reality, the spectral profile of most high-CRI lights used in retail environments has been slightly tweaked to produce the more vivid reds preferred by consumers when shopping for food, clothes and housewares. This red-boosted spectral profile, often designated "90 CRI Ra" or "90 CRI R9 >50," is the high-CRI lighting sweeping the c-store industry.
Our eyes have evolved to strongly prefer the natural light that high-CRI light emulates.  "Strongly" is no exaggeration: the Illuminating Engineers Society of North America published research findings that dropping the color rendering index from 100 to as low as 80 was as disagreeable and noticeable to most people as dropping the amount of light by a whopping 60%. In other words, a 20% drop in CRI was as negatively received as cutting the light level by nearly two-thirds.
The researchers found that consumers much prefer high-CRI lighting that doesn't overwhelm to overly bright, lower-CRI light sources that can make colors look dull and washed out. The conclusion reinforces one of Cree Lighting's basic tenets: better light, not simply brighter light, is the basis of good lighting.
A Facelift That Pays Immediate Dividends
Convenience stores have always leveraged light as an essential asset for sales and security. A well-lit store interior, fuel island and forecourt advertise, "We're open for business." Bright, uniform lighting makes it easier to locate items, read warning labels, monitor customer behavior and maintain a clean, well-organized shop. With many stores open late or even 24/7, customers and employees feel safer when the store environment is properly illuminated.
The expanding application of high-CRI lighting delivers all of those benefits and more. Since the color rendering benchmark for artificial lighting is daylight, high-CRI lighting ensures that a store's brand palette has a consistent look both day and night—and consistency is the watchword of effective branding. Under high-CRI lighting, brand colors look exactly like they do in daylight, the reference environment for sign colors. High-CRI illumination also drives impulse purchases, and product retailers like Coca-Cola and Frito-Lay spend millions of dollars designing packages that appear vibrant and appealing in better light. High-CRI illumination ensures fresh food offerings look fresh and inviting in both graphics and in reality. Finally, both human vision and CCTV video quality improve with better light, along with recognition of vehicle colors and license plates.
With Cree Lighting's commitment to better light, it should be no surprise that we offer a complete ensemble of high-CRI lighting solutions for petroleum marketers.  And it all starts at the fuel pump.
Better Light Attracts Better
Who hasn't pulled off the interstate at night looking for the cleanest, safest place to refuel? As we've pointed out in other posts, more than half of drivers prioritize lighting quality when choosing where to refuel at night, and many will drive an extra mile or so to find a well-lit station. This is why high-CRI lighting actually matters before the consumer has even pulled off the road.
"Drivers use a station's exterior lighting as a shorthand measure of safety, cleanliness and order," said Andy Strickland, VP of Petroleum Lighting at Cree Lighting. "If that's what they see outside, they're pretty confident that's what they'll find inside, too. Our lighting engineers and designers created the CPY500™ Series to specifically help them check those boxes."
The industry's only fuel island canopy luminaire offered in 90 CRI, the CPY500™ Series uses a subtle "sparkle" effect to actively attract a driver's attention. And yet the CPY500™ Series blends seamlessly into the canopy, bathes the fuel island in crisp, uniform light and minimizes glare and light spill.
The refueling process gives c-stores a captive audience for two to five minutes while drivers stand outside, often either inspecting their surroundings or their own vehicle.  Under the high-CRI lighting at the fuel island, food and beverages featured in pump toppers and promotional posters look more appealing, while brand colors, iconic designs and decorative elements will appear exactly as they would in daylight. High CRI lighting also helps drivers quickly read fueling instructions, warnings and gauges, and can even encourage car wash sales by spotlighting dirt and grime on the vehicle's exterior.
Exterior Lighting That Invites
You can't greet each customer at the pump and personally walk them into the store, but you can do the next best thing: install OSQ Series area luminaires and XSP Series wall packs with 90+ CRI.  
The ultimate area light to illuminate your forecourt and facilities like parking, air stations, EV chargers and carwashes, the OSQ Series area light uses Cree Lighting's patented TrueWhite® Technology to deliver beautiful, welcoming light and lifelong color consistency in multiple available finish colors and control options.
Meanwhile, Cree Lighting's XSP Series wall packs employ the same advantages to dispel shadows, boost CCTV performance and provide excellent, uniform illumination around the store's exterior façade and features such as propane tank cages, bagged ice freezers, POP displays, service entrances and dumpster receptacles. That's the beauty of high-CRI lighting solutions – by imbuing every object with a "natural" look, they heighten the appeal and desirability of your store and even the cars parked in front of it.
Interior Lighting That Excites
Congratulations – you've got them to the door. In days past, they'd walk into a store lit by harsh, buzzy and glaring fluorescent troffers that gave everything a dingy look.  Our FLEX Series troffers tell a remarkably different story, starting with a modern, wide-basket design offering superior, low-glare illumination and distinctive lens options, showcasing product while supporting task work at drink dispensers, food prep areas and checkout counters. Tunable white, and SmartCast and Lutron control options include dimming to 1%, with excellent flicker reduction to help minimize fatigue, headaches and stroboscopic hazards.
With so many c-stores beginning to resemble neighborhood grocers and markets, it's not surprising that lighting designers are turning to more architecturally styled luminaires. The versatile Styllus Linear® Series adapts to a multitude of ceiling heights and mounting options including suspended, recessed, surface and wall mounts. Better than 90 CRI and R9>65 ensures beautiful color accuracy, and multiple control platforms allow ultra-smooth dimming down to 1% to help set the shopping stage.
Finally, perfect for petroleum marketers as both retrofits or new construction, both the LRX Series and CDR Series downlight families deliver exceptional color quality with CRI of 90+ in multiple CCTs and the dramatic energy savings you'd expect of DLC Premium products.
Whatever Is Next, We'll Take Care of the Lights
There's no doubt that better light will continue to gain importance to petroleum marketers as generational shifts in buying habits increase demand for market-style and café-style convenience stores. Each month sees more c-stores investing in space for fresh and prepared foods, adding fast food restaurant-style seating and intensively reconfiguring aisles and shelves into more appealing layouts with a greater variety of high-impulse products.
Meanwhile, outside the store, an equally powerful trend further strengthens the need for an inviting and well-lit forecourt: the growing number of electric vehicles and EV charging stations. Every day there's an ever-greater number of EV drivers and passengers looking for a clean, comfortable waystation where they can stretch their legs and grab some refreshment while those batteries recharge.
Cree Lighting pioneered LED commercial lighting with the first viable products for both outdoor and indoor environments. Today, we continue to innovate by paying careful attention to what our customers tell us and bringing them solutions they can't get from anyone else, like 90+ CRI lighting for every square foot of your c-store, inside and out.
Finally, when you buy Cree Lighting high-CRI lighting products for your convenience store, you're supporting the faithful color reproduction of red, white and blue: Cree Lighting is an American company and most of our high-CRI products for petroleum marketers are made in the United States.