Shining a Light on the OSQ Series
Learn about a new tool that makes finding the right area solution even simpler than before.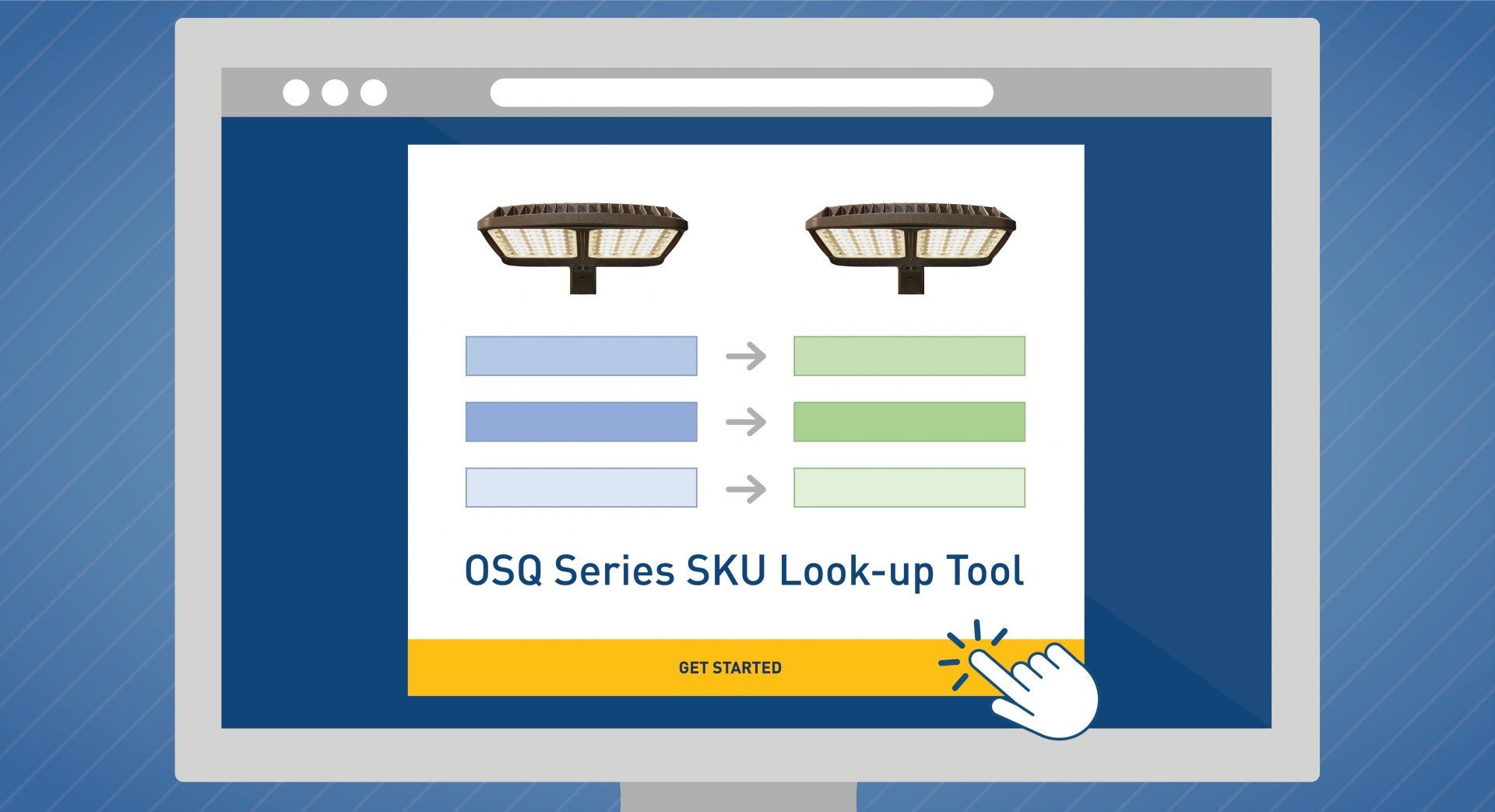 Published on: 5/7/2021
---
Across petroleum service stations, hospital campuses and school parking lots, our OSQ Series is a high-performance, flexible favorite. Its range of lumen packages and versatile mounting configurations make it a staple area/flood luminaire for commercial applications. And now, we've introduced new updates and tools that make the OSQ Series even more versatile and simpler to order than ever before.
What's New for the OSQ Series
Your options in the OSQ Series portfolio now follow a simpler nomenclature to make the ordering process easier. Most notably, product identifiers are focused on lumen packages. The 6,000-lumen option is now known as the "6L," the 16,000-lumen OSQ Series luminaire as the "16L" and so on.
Two new lumen packages — known as the 4L and 9L — have joined the eight already available, providing even more options for your projects. The 29-watt, 4,000-lumen OSQ Series 4L can replace luminaires in the 70W to 150W range. The 60-watt, 9,000-lumen OSQ Series 9L can replace luminaires in the 150W to 250W range.
With an increase of 17% in efficacy, the improved lumens per watt (LPW) means that all options are even more energy efficient as well.
For medium-sized OSQ fixtures, programmable drivers will also allow for greater flexibility in lumen range selection.
Introducing the OSQ Series SKU Lookup Tool
If you have previously used the OSQ Series in your lighting projects, you'll see that the new, simpler nomenclature means different SKUs. To help you navigate the new SKUs, we've provided a SKU Lookup Tool available as a tab on the OSQ Series page. To access the new SKU and its accompanying spec sheet, IES file and installation instructions, just simply select the product SKU you already have, plus any additional features you need to complete your order.  
As you consider your next area lighting project, here are three examples of the OSQ Series at work:
For McLaren Health Care, a system-wide upgrade to Cree Lighting yielded warm, inviting light promoting comfort and security while delivering $1.6 million in annual savings. An integral part of these results, OSQ Series luminaires were installed in parking lots throughout the system's 11 Michigan hospitals.
At Pilot Flying J service stations in Virginia, OSQ Series luminaires are providing even light distribution with flexible optical control and advanced thermal management. "We're seeing energy savings, improved light outputs, and a reduction in maintenance costs," said Bryan Martin, the company's energy manager. "It's a huge improvement."
Throughout the Szott Ford dealership lot in Holly, Michigan, OSQ Series area lights stand, clean and modern. "I'm very pleased," Todd Szott shared. "The color looks great from the highway; it looks great underneath. It's more uniform. And you can definitely better appreciate the colors of the cars. We certainly have gotten better light out there. And that's good for business."